L'1 novembre si è svolto al Parco della Musica di Roma il concerto-happening Turning, nell'ambito del Roma Europa Festival. Per la prima volta in Europa abbiamo avuto la possibilità   di ascoltare-vedere questo incontro artistico tra l'ultimo usignolo della musica pop-soul Antony (accompagnato dalla solita famiglia dei Johnsons) e il demoniaco video-artista Charles Atlas.
Come già   detto in diverse interviste fatte al biondissimo Atlas, lo spettacolo si pone a metà   strada tra una performance e un concerto classico. 13 canzoni interpretate dal brunissimo Antony, tutte incentrate sulla figura della donna moderna.
Location e diffusione del suono ottime. Il palco è diviso in quattro zone principali. La zona centrale è classicamente occupata dalla band (voce, pianoforte, basso, chitarra, batteria e trio d'archi). A destra una pedana rotante è pronta a ospitare ogni volta una modella proveniente dalla prima fila, che ad ogni brano viene ripresa da due telecamere poste di fronte. La zona posteriore consiste invece in un maxischermo su cui sono visualizzate le immagini riprese dalle telecamere, elaborate in tempo reale da una regia posta nell'ultima zona a sinistra del palco.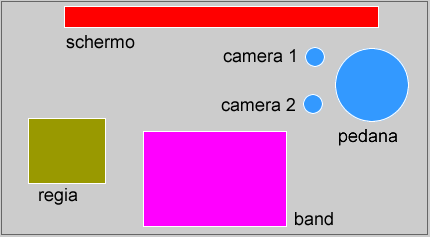 L'inizio è strepitoso. Antony sussurra nel microfono immerso nella penombra, mentre nel maxischermo un viso di donna gira continuamente su sè stesso. A ogni nuovo brano un nuovo viso di donna, una nuova modella, un nuovo concept visivo. La femme fatale, la depressa, il travestito. Viraggi di colore, immagini stratificate, Filtri gaussiani. You are my sister, Hope There's Someone, Twilight.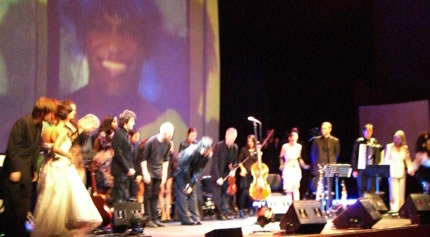 I pro e i contro sono tutti lì: 13 variazioni sul tema sono veramente troppe. Antony pesca le sue migliori canzoni dal primo e dal secondo disco e qualcosa di inquietante da un imminente nuovo album. Atlas utilizza tutto quello che si può utilizzare nell'antica arte della processazione video. Alla fine la qualità   del materiale è altalenante, ovvero talvolta il gioco modella-elaborazione video-musica riesce a produrre emozioni forti, talvolta la qualità   di questi tre elementi è sbilanciata e si cade nell'ovvio. La sensazione è che con tale materia sonora, costituita da melodie angeliche e ballate pop-soul, la voglia di sperimentare rimanga incastrata dentro, non potendo creare linee di sviluppo più variegate.
Aspettiamo quindi Antony al varco del nuovo disco, un pò meno melenso dell'ultimo, e Atlas a nuove sperimentazioni video, un pò più coraggiose di quelle viste questa sera.
Approfondimenti:
Antony and the Johnsons
Gianpaolo D'Amico is an independent creative technologist for digital media. He is the founder of sounDesign and a music obsessed since he was 0 years old.
Latest posts by Gianpaolo D'Amico (see all)