HoloEdit e HoloSpat sono due software gemelli, indipendenti ma complementari, che permettono "la gestione delle masse spaziali" in modo semplice ed intuitivo, l'uno programmato in Java, l'altro come applicazione di Max/MSP.
Sarebbe a dire che consentono di programmare e in parte di gestire dal vivo lo spazio della "proiezione sonora" multicanale in relazione al luogo (forma e grandezza), al numero, tipo, disposizione degli altoparlanti, al "tempo di percorrenza" di questo spazio attraverso la gestione dei ritardi, dei riverberi, della convoluzione- tutti criteri fondamentali per una diffusione che sia anche "design" sonoro di un luogo, creata per quel luogo, quel pubblico, quel suono.
Il tutto in maniera intuitiva e, tutto sommato, immediata:
HoloEdit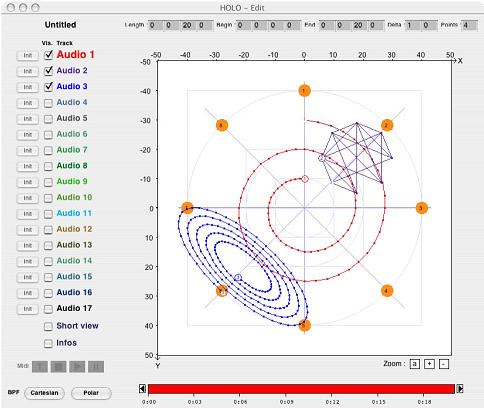 consente di disegnare delle traiettorie (fino a sedici simultaneamente, e con la possibilità   di sceglierle tra un ampio numero di curve già   disponibili, più o meno complesse, oppure di disegnarle a proprio gradimento), mentre
HoloSpat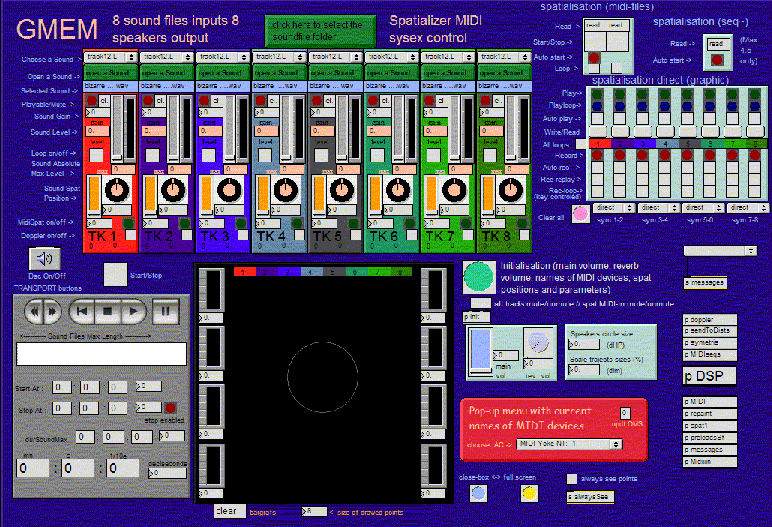 si occupa della riproduzione sonora delle traiettorie e consente di settare altri parametri come la grandezza della sala (in metri), la distanza degli spettatori dai diffusori (da cui, per esempio, la quantità   di riverbero necessario a simulare la traiettoria stabilita), e presenta una interfaccia munito di sliders di controllo volume (molto utili, nel caso i suoni da diffondere sulle traiettorie dovessero essere gestiti dal vivo e non semplicemente mandati in loop), fino ad un massimo di 16 canali in ingresso e 16 in uscita.
Le due applicazioni si parlano tramite MIDIshare. HoloEdit può in effetti "counicare" ed essere quindi reso acusticamente da qualsiasi applicazione in grado di leggere i controlli MIDI associati alle singole traiettorie. HoloEdit & HoloSpat sono una creazione del centro GMEM (Groupe de musique experimentale de Marseille) di Marsiglia, (anzi di Laurent Pottier), nascono per Mac OS 9 (e X) ma ne esiste anche una versione per Windows (che non dà   problemi, parola della sottoscritta- almeno per una diffusione fino ad otto canali…).
Maggiori informazioni all'indirizzo del centro GMEM
http://www.gmem.org
e
http://www.gmem.org/holo-online/index.htm
Sara Lenzi is Director of Marketing at Sonoport. With more than a decade of experience in sound design and audio branding consultancy, she writes about all the multifaceted aspects of sound in communication. She is an international lecturer and founder of Lorelei Sound Strategies, the first sound branding boutique studio in Asia. Sara has a Master Degree in Philosophy from the University of Bologna and she is starting her PhD at the University of Bilbao, Spain. She lives in Singapore, where she spends her free time in tireless exploration of local food stalls and vintage shops, sipping cocktails in the tropical humidity and diving with giant turtles in the South China Sea.
Latest posts by Sara Lenzi (see all)