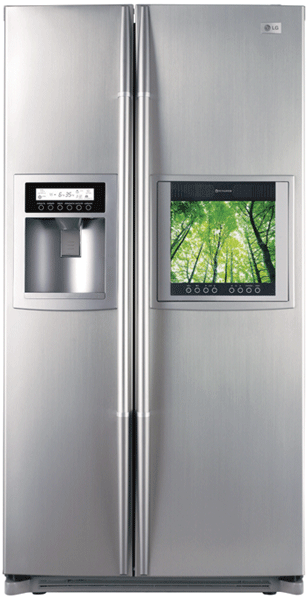 "Side by side-Gran lusso grande spazio".
è della LG il nuovo frigorifero di classe energetica A corredato da un televisore a schermo piatto 15″ e una radio FM/AM, oltre che dei rituali otto sensori interni, del fabbricatore di ghiaccio, dell'allarme porte aperte…
per un ascolto ottimale, i Db emessi dal frigo stesso per ragioni per così dire "naturali" si limitano a raggiugere la soglia dei 41.
Non dovrete fare niente perchè il macchinone è dotato di guarnizione antibatterica, sistema deodorizzante e Magic Zone, qualunque cosa sia…
Non mi resta che augurare buon ascolto a tutti!
Sara Lenzi is Director of Marketing at Sonoport. With more than a decade of experience in sound design and audio branding consultancy, she writes about all the multifaceted aspects of sound in communication. She is an international lecturer and founder of Lorelei Sound Strategies, the first sound branding boutique studio in Asia. Sara has a Master Degree in Philosophy from the University of Bologna and she is starting her PhD at the University of Bilbao, Spain. She lives in Singapore, where she spends her free time in tireless exploration of local food stalls and vintage shops, sipping cocktails in the tropical humidity and diving with giant turtles in the South China Sea.
Latest posts by Sara Lenzi (see all)