Immaginate una tranquilla domenica di autunno…
Immaginate di essere fermi a un incrocio tra Empoli e Firenze…
Conoscete la Misericordia? Se non la conoscete sappiate che è una delle più antiche associazioni di volontariato del soccorso in Italia.

In questa tranquillla domenica di autunno si è celebrato uno degli anniversari di quest'associazione.
Immaginate allora di avere una cinquantina di autoambulanze che vi passano davanti. Un tripudio di sirene, che si muovono nello spazio, si avvicinano e si allontanano. Una melodia (quella melodia) ripetuta continuamente non da una singola sorgente, ma da più sorgenti di suono, in continuo movimento.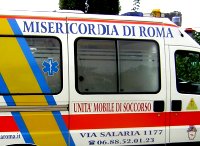 Sono entrato in uno stato di ipnosi. Nemmeno il suono dell'aspirapolvere sarebbe riuscito a raggiungere tale intensità .
Paesaggio sonoro con ambulanze? Musica concreta da sirena? Spazializzazione stradale? I volontari della Misericordia sono dei bizzari sound designer?
Sfido chiunque ad avere vissuto un'esperienza di questo tipo. Mai le mie orecchie hanno percepito materiale sonoro di questo tipo.
Ovviamente non avevo nè telecamere, nè registratori, per cui non ho potuto documentare assolutamente niente. Quindi potete anche non credermi…
Non penso a ogni modo che la Misericordia ripeterà  la sua perfetta installazione sonora se glielo chiedo.
Aspetterò il prossimo anniversario allo stesso incrocio stradale….
Gianpaolo D'Amico is an independent creative technologist for digital media. He is the founder of sounDesign and a music obsessed since he was 0 years old.
Latest posts by Gianpaolo D'Amico (see all)