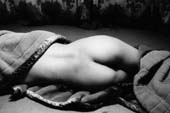 Si ̬ aperta il 25 gennaio, a palazzo Re Enzo (Bologna) la sessione 2007 di Netmage (25 gennaio Р2 febbraio)
Alle 22 inizia Cinemage di Aki Onda, fotografo e musicista nato in Giappone. Cinemage ovvero omaggio al cinema è una sequenza di fotografie "della vita quotidiana" di Aki Onda (come quella che abbiamo pubblicato) e un improvvisazione chitarristica eseguita con il contributo audio di Alan Licht e Oren Ambarchi. Ancora prevalente una estetica del rumore che maschera a tratti cadenze heavy metal che fanno venire voglia di una birra e di un concerto degli Iron Maiden. Infatti esco. Sulle scale tra la biglietteria e la sala c'è la popstar cinefilosofica (è la definizione dalla brochure) Enrico Ghezzi, in attesa della sua performance, che fa una piccola doccia di folla. (NdT nella doccia la gette passa e guarda il personaggio di culto dandosi delle gomitate e ammiccanti – a differenza del bagno che richiede tentativi di contatto fisico e urla). Gli chiedo "Resisterà   a lungo l'estetica del rumore? ", "La rottura è necessaria, la realtà   non è continua, nella rottura c'è il disvelamento". La rivoluzione e permanente – penso – e anche il bisogno di rottura… forse quando la realtà   sarà   in cocci sottili come sabbia torneranno a formarsi le isole.. o galleggeremo come plancton. "E quali saranno le prossime sinergie tra immagine e suono?" chiedo. "l'immagine e il suono non hanno alcun rapporto, sono perfettamente slegate.. – mi rivela l'uomo che si è manifestato alle masse parlando in differita – non dobbiamo ostinarci a tenerle unite rompere, bisogna rompere le costruzioni forzate"…. Riflettendo su queste considerazioni torno in sala per scoprire la performance Something Like Seeing in the Dark di John Duncan e Lelf Elggren dalle intenzioni spiritualistiche. "Da qualche parte, nel silenzio, nella solitudine, nel tanfo di sudore, nella calura, c'è un messaggio. In qualche modo, nonostante tutto, senti che capirai". …
Sara Lenzi is Director of Marketing at Sonoport. With more than a decade of experience in sound design and audio branding consultancy, she writes about all the multifaceted aspects of sound in communication. She is an international lecturer and founder of Lorelei Sound Strategies, the first sound branding boutique studio in Asia. Sara has a Master Degree in Philosophy from the University of Bologna and she is starting her PhD at the University of Bilbao, Spain. She lives in Singapore, where she spends her free time in tireless exploration of local food stalls and vintage shops, sipping cocktails in the tropical humidity and diving with giant turtles in the South China Sea.
Latest posts by Sara Lenzi (see all)