Il blog di Palm Sounds inizialmente mi ha fatto sorridere. Mi sono stupito di come ci siano persone che cerchino di produrre il suono con qualsiasi dispositivo si trovino per le mani.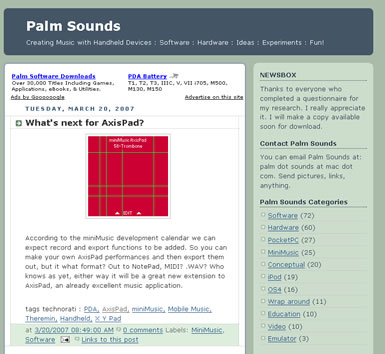 Palm Sounds è solo la punta del famoso iceberg. Un blog che si propone come punto di riferimento per tutto quello che riguarda la creazione di musica con i dispositivi palmari, o meglio:
Creating Music with Handheld Devices : Software : Hardware : Ideas : Experiments : Fun!
Andando a scavare nella materia (sonora e non solo…) dei post di Palm Sounds devo dire che ho scoperto un mondo veramente interessante:
MiniMusic: una serie di applicazioni che utilizzano appunto i prodotti dell'azienda MiniMusic, per la generazione di musica sui palmari;
Pro-tools project: un'ipotesi sull'implementazione di un software simile a pro-tools per il Palm;
Palm Sounds Calendar: che segnala gli appuntamenti dedicati al tema del blog;
e tanto altro ancora.
Dal punto di vista del mestiere del sound designer prossimo venturo c'è molto da meditare, in quanto molte delle soluzioni hardware/software che vengono utilizzate per i palmari saranno disponibili per i cellulari, che hanno un'utenza molto più grande, nonchè più delicata per quanto riguarda la percezione sonora in funzione dell'interazione con i dispositivi stessi.
Gianpaolo D'Amico is an independent creative technologist for digital media. He is the founder of sounDesign and a music obsessed since he was 0 years old.
Latest posts by Gianpaolo D'Amico (see all)