Il Sound Walking è una tecnica molto particolare di osservazione della natura, che trascura completamente la vista in favore dell'udito.
Letteralmente significa passeggiata sonora, e si fa bendati e guidati di solito in gruppi di una decina di persone. Ha preso avvio intorno agli anni '70 in Canada dove Raymond Murray Shaffer ha iniziato i suoi studi sul Paesaggio Sonoro.
L'attenzione al paesaggio dal punto di vista dell'ambiente acustico è un fatto irrinunciabile. L'udito è uno dei primi sensi a svilupparsi, attraverso l'udito non solo percepiamo i suoni ma anche lo spazio attorno a noi e quella porzione di spazio che siamo noi.
Equilibrio e tranquillità   psichica dipendono da questo senso che quando è in allarme, come quando sottoposto a sollecitazioni (rumori) continue, invia al cervello segnali di pericolo con conseguente produzione di adrenalina.
Eppure la nostra cultura è sopraffatta dai rumori che si dispongono uno sull'altro in una sorta di horror silenti che non fa che accrescere le condizioni di stress.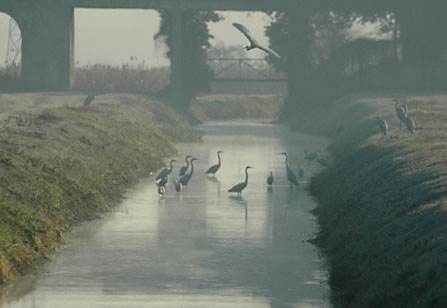 Quello che proponiamo è un sound-walking nella natura, un bird listening abbinato ad un bird watching, condotto dagli esperti di Ebn-Italia, un'esperienza totalizzante in cui il contatto con gli animali viene preceduto dal contatto con il loro ambiente.
E' un'occasione per riequilibrare il sistema uditivo e toccare con orecchio il senso dello spazio, attraverso il rapporto suono/silenzio.
Si percepiranno i suoni della natura, i richiami e i canti degli uccelli, nella loro dimensione di segnale atto a dare ad ogni specie le coordinate sonore di geografie aeree e rituali esistenziali.
La visione diventerà   così il culmine di una percezione panica di perfetta immersione nella natura.
Indicazioni
Partecipanti: possono partecipare bambini dall'età   di 10 anni e adulti, purchè in grado di deambulare autonomamente o possano essere accompagnati da una persona che non partecipa al programma, cioè che non sarà   bendata. Il numero massimo di partecipanti è 15.Durata: il percorso si snoderà   per la durata di circa due ore, di cui 30 min di Sound Walking.
Controindicazioni: non ci sono controindicazioni, tranne quelle indicate al punto partecipanti. Tuttavia chiunque dovesse sentirsi a disagio, può in qualsiasi momento decidere di lasciare il gruppo o semplicemente togliersi la benda e continuare la passeggiata ad occhi aperti (salvo una volta tranquillizzato, tornare a indossarla).
Logistica e modalità  : i partecipanti arriveranno con auto propria al parcheggio del Boschetto di Punte Alberete. Quei si sosterà   si sosterà   in uno spazio di decontaminazione per fare alcuni esercizi di rilassamento e di predisposizione all'ascolto. Poi i partecipanti indosseranno la benda e tenendosi ad una corda e si avvieranno dolcemente sul percorso.
Durante la passeggiata nessuno parlerà  . Solo a tratti la guida EBN svelerà   il nome degli uccelli che si sentiranno cantare.
Costi: La partecipazione è gratuita per iscriversi contattare l'organizzazione tramite i numeri telefonici e gli indirizzi e-mail pubblicati in calce o presso lo stand EBN – Italia durante la IV Fiera Internazionale del Birdwatching e del Turismo Naturalistico
Si consiglia un abbigliamento comodo!
Programma
h. 9.45 raduno dei partecipanti presso il bosco Punte Alberete
h. 10.00 preparazione – Illustrazione dell'iniziativa; esercizi di predisposizione all'ascolto.
h. 10.30 I partecipanti vengono bendati e guidati con il tramite di una corda attraverso il sentiero
h. 11.00 fine del Soundwalking/Bird listenig inizio del Bird watching
29 e 30 aprile 2007
Boschetto di Punte Alberete
IV Fiera Internazionale del BirdWatching e del turismo, Comacchio (FE)
Informazioni
sounDesign
ilaria@soundesign.info
sara@soundesign.info
Prenotazioni
DELTA 2000 soc. cons. a r.l.
Tel. 0533 57693
E-mail: deltaduemila@tin.it; info@podeltabirdfair.it
www.podeltabirdfair.it
Sara Lenzi is Director of Marketing at Sonoport. With more than a decade of experience in sound design and audio branding consultancy, she writes about all the multifaceted aspects of sound in communication. She is an international lecturer and founder of Lorelei Sound Strategies, the first sound branding boutique studio in Asia. Sara has a Master Degree in Philosophy from the University of Bologna and she is starting her PhD at the University of Bilbao, Spain. She lives in Singapore, where she spends her free time in tireless exploration of local food stalls and vintage shops, sipping cocktails in the tropical humidity and diving with giant turtles in the South China Sea.
Latest posts by Sara Lenzi (see all)