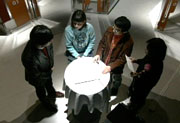 Parlando di Soundwalking, ve ne segnaliamo una variante molto particolare…quella ideata dal giapponese Iori Nakai e presentata all' edizione 2003 di Ars Electronica, che l'ottimo We-make-money-not-art è riuscito a pescare. Purtroppo in internet non si trova molto (a meno che non leggiate e capiate il giapponese!), però in breve il concetto è questo: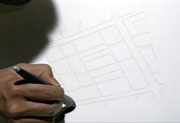 Streetscape è la mappa sonora di una città  ,con i suoni della città   attaccati…seguendo sul plastico i vari percorsi con uno stylus digitale, si rida vità   ai suoni dei luoghi che si attraversano, e che sono stati registrati esattamente in quei luoghi: l'ambiente, le voci, i rumori. Nakai ne ha create per ogni luogo in cui si è fermato, e le ha esposte al pubblico. Si tratta di un soundwalking trasportabile, un soundwalking da viaggio e da poltrona allo stesso tempo…che ti permette immersione totale (attraverso il suono) e interazione totale con l'opera – con la possibilità   di gestire completamente la propria visita nella città  . Per Ars Electronica furono create due versioni di Linz (la cittadina austriaca che ospita il festival e il centro permanente), una notturna e una con i suoni del giorno.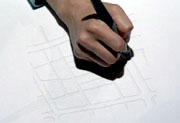 Mi piacerebbe conoscere e darvi qualche dettaglio tecnico in più…prometto di informarmi meglio, e di farvelo sapere. Se qualcuno di voi dovesse saperne qualcosa di più, ce lo scriva! Siamo molto curiosi.
Sara Lenzi is Director of Marketing at Sonoport. With more than a decade of experience in sound design and audio branding consultancy, she writes about all the multifaceted aspects of sound in communication. She is an international lecturer and founder of Lorelei Sound Strategies, the first sound branding boutique studio in Asia. Sara has a Master Degree in Philosophy from the University of Bologna and she is starting her PhD at the University of Bilbao, Spain. She lives in Singapore, where she spends her free time in tireless exploration of local food stalls and vintage shops, sipping cocktails in the tropical humidity and diving with giant turtles in the South China Sea.
Latest posts by Sara Lenzi (see all)