Quella volta che io e Luigi abbiamo avuto il piacere di lavorare/studiare/ascoltare da vicino i Matmos (Drew Daniel & Martin C. Schmidt – a chi non li conoscesse è vivamente consigliato di rimediare al più presto…), ci hanno svelato un piccolo segreto: il modo migliore per ascoltare la loro musica è, secondo le loro parole, in macchina. Per la precisione in una automobile elettrica, di quelle che quando sei in corsa fanno lo stesso rumore delle auto a benzina, e quando ti fermi al semaforo passano all'elettricità   diventando silenziosissime…in questo modo, il paesaggio sonoro dell'auto, in cui chi sta all'interno è completamente immerso, dal quale si è avvolti, permette allo stesso tempo di concentrarsi sui suoni e di apprezzare le sonorità   dell'insieme, di distrarsi guardando il paesaggio e poi di ritornare a fissarsi su un suono che improvvisamente è emerso e ci ha ricatturati…
Ecco, fedele al mandato dei miei amici/eroi, ho voluto dedicarmi all'ascolto di Un'estate senza pioggia, l'ultimo lavoro di Matteo Uggeri (Hue) pubblicato da Grey Sparkle) mentre scendevo l'Appennino da Brisighella a Bologna in quel del primo maggio.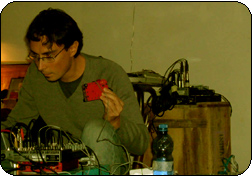 Che dire, Un'estate senza pioggia è un diario sonoro della torrida estate del 2003, quando Matteo se ne andò in giro per l'Italia a collezionare suoni…un lavoro di field recording, ma non solo. Durante le tappe, gli incontri con altri musicisti hanno prodotto un album in cui paesaggi sonori ricchi di memoria (si sentono frammenti di dialoghi, prove di cori, voci, suoni, quasi odori dei posti che Hue ha attraversato) si alternano a giri di chitarra, a melodie di fisarmonica, a suoni strumentali anch'essi carichi di malinconia…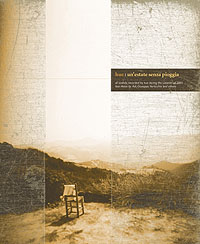 insomma, sembra che il field recording si sia in questo caso portato dietro frammenti di vita, colori, odori, tutti i sensi e non solo l'udito…Buon ascolto.
Sara Lenzi is Director of Marketing at Sonoport. With more than a decade of experience in sound design and audio branding consultancy, she writes about all the multifaceted aspects of sound in communication. She is an international lecturer and founder of Lorelei Sound Strategies, the first sound branding boutique studio in Asia. Sara has a Master Degree in Philosophy from the University of Bologna and she is starting her PhD at the University of Bilbao, Spain. She lives in Singapore, where she spends her free time in tireless exploration of local food stalls and vintage shops, sipping cocktails in the tropical humidity and diving with giant turtles in the South China Sea.
Latest posts by Sara Lenzi (see all)