Riccardo Giraldi è una caro amico, uno di quelli che ti regala un link senza chiedere nulla in cambio, uno di quelli a cui lasceresti in gestione il tuo blog mentre sei in vacanza…

E allora ecco che il buon Riccardo mi segnala SoundWaves: Sonic Art Exhibition, ovvero un'imperdibile mostra nata dalla collaborazione tra il Kinetica, museo di arte elettronica e sperimentale a Londra, e CyberSonica, ottimo festival di musica, suono, arte e tecnologia.

Esattamente dal 18 maggio al 29 giugno il Kinetica Museum ospiterà   una serie di lavori molto interessanti. Si va infatti dall'orchestra autocostruita di Pierre Bastien, alle sculture elettroacustiche di Max Easley, al theremin per voce KII 2.1 di Micheal Market, all'ennesimo progetto firmato da un artista di SoundToys.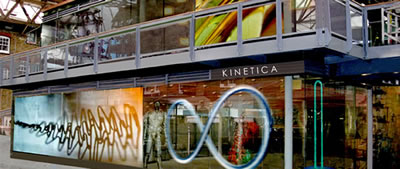 L'inaugurazione della mostra è prevista per il 18 maggio, con una serie di performance (vj, dj e live set) e talk sui temi del festival.
Gianpaolo D'Amico is an independent creative technologist for digital media. He is the founder of sounDesign and a music obsessed since he was 0 years old.
Latest posts by Gianpaolo D'Amico (see all)