Carissimi, lo so che è estate, che fa caldo, che è ora di riposare almeno per una bella fetta di voi fortunati…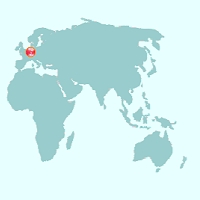 …però c'è un'ultimo sforzo da fare. Scade il primo di agosto la nuova proposta di netEx-networked experience: si tratta della call per la nuova edizione di SoundLab, progetto di arte sonora in rete e non solo, giunto quest'anno alla quinta edizione.
SoundLab, curato dal vulcanico Agricola de Cologne, di cui ho già   parlato, è un progetto che lega una serie di gallerie d'arte e di festival dedicati all'arte digitale, in questo caso sonora, sparse un po' per tutto il mondo.
Tanto per darvi un'idea, le opere selezione per la IV edizione di SoundLab sono state presentate nell'ambito del Festival de Arte Digital del MACRO di Rosario (Argentina), del Festival di Polonia, e alla Galleria di Arte Contemporanea di Casoria di Napoli con il nome di selfportrait – a show for Betlehem. E a breve saranno presentate al FILE Hipersonica di San Paulo, Brasile.
La V edizione è dedicata alle sound stories, ovvero a come il suono può descrivere, farsi portavoce di un racconto. Per questo nelle norme di partecipazione si richiede di inviare oltre al brano (di durata massima 10 minuti) anche il racconto che l'ha ispirato o che il brano descrive.
Sara Lenzi is Director of Marketing at Sonoport. With more than a decade of experience in sound design and audio branding consultancy, she writes about all the multifaceted aspects of sound in communication. She is an international lecturer and founder of Lorelei Sound Strategies, the first sound branding boutique studio in Asia. Sara has a Master Degree in Philosophy from the University of Bologna and she is starting her PhD at the University of Bilbao, Spain. She lives in Singapore, where she spends her free time in tireless exploration of local food stalls and vintage shops, sipping cocktails in the tropical humidity and diving with giant turtles in the South China Sea.
Latest posts by Sara Lenzi (see all)