Carissimi, l'estate sta finendo e noi diventiamo grandi…proprio per questo vi dedico oggi, dopo un pò di tempo d'assenza, un breve post leggero leggero, di quelli per l'appunto per chiudere l'estate in maniera un po' meno sofferta.
Durante il Festival di Avignone di quest'anno, a cui ho avuto il piacere di assistere, mi sono imbattuta nel bizzaro show del cineasta  Roger Toulemonde, protagonista da molti anni con la sua compagnia Jamais 2 sans 3 di una sorta di opera divulgativa del cinema, e in particolare del cinema in Super 8.
Sì perchè Roger ha iniziato girato brevi filmini delle sue vacanze, in Super 8 appunto, per mostrarli poi in un minicinema attrezzato – rigorosamente per un massimo di tre spettatori – sui sedili della sua Renault 203. E con questo cinema itinerante ha girato tutta la Francia e non solo.
Il secondo passo è stata la realizzazione di un suo film, sempre proiettato nella fida Renault ma con l'aggiunta di rumoristi e musicisti dal vivo…
Ad Avignone Roger presentava la sua ultima opera, Le Cinèrotic, ovvero, brevissimi cortometraggi erotici in Super 8 degli anni '60-'70-qualche rarità   di anni '40 e anche prima, tutti naturalmente molto casti…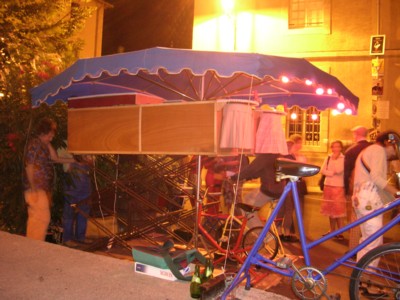 ed ora veniamo al dunque, ovvero, al meccanismo: il fido collaboratore di Roger, le gars Jean, utilizzando delle vecchie biciclette da ginnastica e dotandole di contatori elettrici, è riuscito a collegarle ad un proiettore (naturalmente in Super 8) e non solo..ogni bicicletta è corredata da un mini teatrino, ci dui la pedalata controlla anche l'apertura e la chiusura del sipario, oltre che l'andamento del filmato.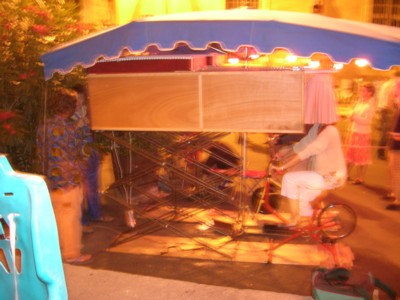 Veniamo a noi: gli altoparlanti, che non possono mancare, sono costituiti da un paio di coni applicati alle due estremità   del sipario esterno (in realtà  , una vecchia gonna da donna sotto la quale lo spettatore si deve infilare..) e si accendono alla prima pedalata.
Il commento sonoro è ad opera di Roger e dei suoi collaboratori, ed è la voce di Roger stesso che accompagna ironicamente la visione…insomma, che ne direbbe Michel Chion di questa imprevedibile audio-visione…?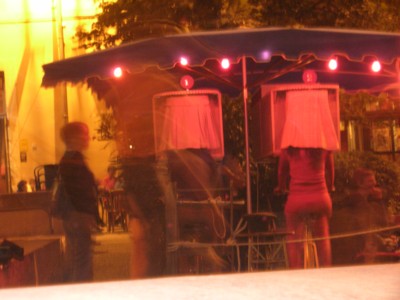 Sara Lenzi is Director of Marketing at Sonoport. With more than a decade of experience in sound design and audio branding consultancy, she writes about all the multifaceted aspects of sound in communication. She is an international lecturer and founder of Lorelei Sound Strategies, the first sound branding boutique studio in Asia. Sara has a Master Degree in Philosophy from the University of Bologna and she is starting her PhD at the University of Bilbao, Spain. She lives in Singapore, where she spends her free time in tireless exploration of local food stalls and vintage shops, sipping cocktails in the tropical humidity and diving with giant turtles in the South China Sea.
Latest posts by Sara Lenzi (see all)