Sono appena tornato da uno stupendo viaggio in Normandia in cui ho avuto occasione di drizzare le orecchie più volte per vari motivi legati al design del suono.
Una volta arrivato nella città   di Rouen ho potuto assistere allo spettacolo di luci e suoni La Cathèdrale, de Monet aux pixels, in cui ogni sera alcune delle più famose opere di Monet sono proiettate sulla facciata della cattedrale di Notre-Dame di Rouen, con immancabile accompagnamento sonoro.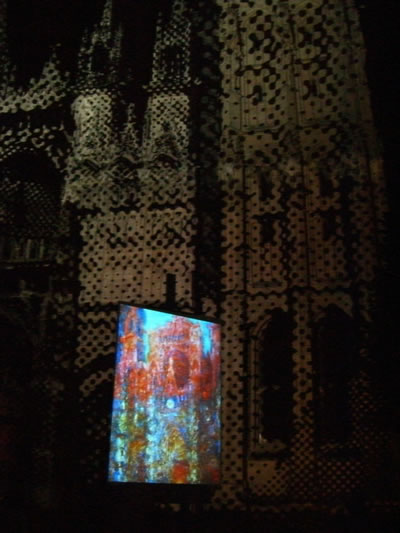 Dal nostro punto di vista siamo di fronte a un'installazione sonora vera e propria, unica e maestosa. Pensate a quanti artisti vorrebbero poter utilizzare una superficie di proiezione di questo tipo. L'effetto visivo è veramente suggestivo. Un pò meno quello uditivo.
Innanzitutto perchè il suono proviene da due semplici (nella potenza e nella resa sonora) altoparlanti disposti alle finestre di un palazzo che si trova alle spalle del pubblico. Questa configurazione crea non pochi problemi per l'ascoltatore, che riceve il suono da dietro, e vede le immagini di fronte, con conseguenti problemi a livello percettivo.
Un'ulteriore critica riguarda poi la qualità   dell'accompagnamento sonoro, che purtroppo ricalca i soliti schemi della musica elettronica utilizzata per le installazioni destinate generalmente al grande pubblico. Non dico altro, ma invito a vedere il video che ho ripreso con il telefonino (molto, troppo lo-fi).
[kml_flashembed movie="http://www.youtube.com/v/YgzmrVqtimA" width="425″ height="350″ wmode="transparent" /]
Gianpaolo D'Amico is an independent creative technologist for digital media. He is the founder of sounDesign and a music obsessed since he was 0 years old.
Latest posts by Gianpaolo D'Amico (see all)