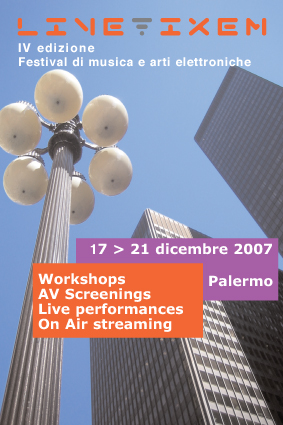 Cari amici, oggi vi do con piacere notizia del fischio di partenza per la IV edizione del Festival di musica e arti elettroniche Live!iXem che si terrà   nella bellissima Palermo dal 17 al 21 dicembre prossimi.
Con molto piacere per varie ragioni: primo, perchè il calendario è davvero ricchissimo, dalle esibizioni dei vincitori del contest 2007 Alessandro Fiorin Damiani, La Jovenc, Anna Bolena, Eniac e Kuri.O, a due workshop da non perdere:
dal 17 al 19 dicembre sarà   niente meno Alvin Curran a lavorare su La musica al di fuori degli spazi performativi, La composizione elettroacustica sperimentale, L'improvvisazione elettroacustica interdisciplinare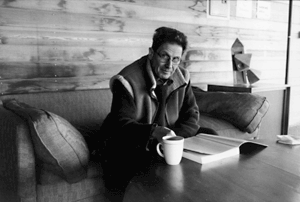 dal 20 al 21 Andrea Valle tratterà   del mitico SuperCollider e mostrerà   il progetto GeoGraphy – dai grafi al suono. Quest'ultimo è una piattaforma basata su Super Collider, che si caratterizza come un sistema formale di organizzazione del materiale sonoro che utilizza dei grafi come strutture di base per la gestione del tempo.
Attenzione! I workshop sono a numero chiuso. In particolare, per Alvin Curran le iscrizioni sono aperte solo fino al 30 novembre. Affrettatevi a consultare i programmi attraversi i link qui sopra oppure al sito www.iXem.it.
Per informazioni e iscrizioni, la Segreteria Organizzativa risponde all'indirizzo c.moriniello@antitesi.org.
Seconda ragione, il piacere di segnalare a chi già   non le conoscesse le attività   della rete iXem, ideata dal compositore e musicista elettroacustico Domenico Sciajno. Il consiglio è di navigare con calma tra le pagine di iXem.it (le notizie e le attività   della rete iXem sono veramente tante), e mi permetto di segnalare in particolare il progetto Electric Garden – Mappatura delle realtà   italiane nel campo della musica sperimentale.
Una sorta di database della realtà   italiana. Un ottimo modo per conoscere e conoscerci e magari lanciare nuove collaborazioni.
Sara Lenzi is Director of Marketing at Sonoport. With more than a decade of experience in sound design and audio branding consultancy, she writes about all the multifaceted aspects of sound in communication. She is an international lecturer and founder of Lorelei Sound Strategies, the first sound branding boutique studio in Asia. Sara has a Master Degree in Philosophy from the University of Bologna and she is starting her PhD at the University of Bilbao, Spain. She lives in Singapore, where she spends her free time in tireless exploration of local food stalls and vintage shops, sipping cocktails in the tropical humidity and diving with giant turtles in the South China Sea.
Latest posts by Sara Lenzi (see all)