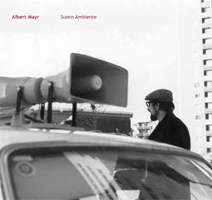 Qualcuno di voi si ricorderà   del nostro primo incontro con Albert Mayr, il cui primo, udibile effetto fu un'intensa intervista sui temi del paesaggio sonoro, dell'inquinamento acustico, del design del tempo quotidiano…
Preparandomi per quella occasione, mi capitò sott'occhio la segnalazione di un'opera su CD che avrebbe stuzzicato la curiosità   di qualunque amante e amatore di suoni, e di documenti sonori in particolare…appartenendo ahimè a quella categoria, mi sono procurata l'audiodocumentario in questione, e ve lo segnalo sicura che interesserà   a molti dei nostri lettori.
Si tratta del CD Suono e Ambiente, prodotto nel 2001 dallo stesso Albert Mayr e da Giovanni Antognozzi per Ants – a new timeless sound dell'etichetta Silenzio Distribuzione.
Il titolo, che riprende il nome di una serie di manifestazioni, dibattiti, concerti organizzati esattamente trent'anni fa (era il 1977) da Mayr e dal gruppo ZONA di Firenze e riprese poi in varie modalità   a Milano e Bologna, è esplicativo e allo stesso tempo riduttivo, come tutti i titoli…la voce di Albert infatti ci guida nell'esplorazione del Suono e dell'Ambiente intesi come
paesaggio sonoro, soundmark, rapporto tra civiltà   dell'immagine e ascolto, inquinamento da rumore, orchestrazione del mondo, cicli sonori, rumore e luogo di lavoro, suono come memoria o come oggetto estetico, animazione sonora, installazioni d'arte, fenomeni acustici (la risonanza), ricerca e tecnologie per una autoproduzione sonora…
Gli spunti sono tantissimi, e sono insieme testimonianza del clima di quegli anni – gli anni '70 – e proposta per una ricerca contemporanea.
Oltre a questo, troviamo documenti sonori preziosi: registrazioni originali di quella performance-installazione-festa che fu il Treno bolognese di Cage del 1978 (forniti da chi partecipò alla realizzazione dell'evento – Harpo's Bazaar), una realizzazione a cura di Albert Mayr di I'm sitting in a room di Alvin Lucier, le registrazioni del porto di Vancouver ad opera di Murray Schafer, e tanto altro ancora.
Un'ultima considerazione. Non so voi, ma l'ascolto attento di questi documenti sonori è stato già   un esercizio di concentrazione uditiva come non lo provavo da tempo…legati come siamo all'immagine, e forse a considerare il suono come un sottofondo insensato ovvero privo di senso – il brusio della televisione? – fatichiamo a sostenere un ascolto puro, l'ascolto di una voce che racconta come del paesaggio sonoro del paesino di Cembra nel giorno di Pasqua per il World Soundscape Project.
Rimarremo un manipolo di sognatori ad orecchie aperte oppure c'è ancora una possibilità  , per ascoltare ed ascoltarsi, prima della sordità   universale?
Sara Lenzi is Director of Marketing at Sonoport. With more than a decade of experience in sound design and audio branding consultancy, she writes about all the multifaceted aspects of sound in communication. She is an international lecturer and founder of Lorelei Sound Strategies, the first sound branding boutique studio in Asia. Sara has a Master Degree in Philosophy from the University of Bologna and she is starting her PhD at the University of Bilbao, Spain. She lives in Singapore, where she spends her free time in tireless exploration of local food stalls and vintage shops, sipping cocktails in the tropical humidity and diving with giant turtles in the South China Sea.
Latest posts by Sara Lenzi (see all)