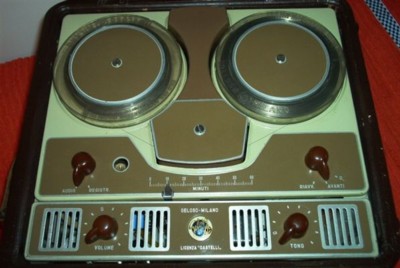 Tempo di saluti, questo dicembre 2007. Si chiude un'epoca, e tante altre ne verranno.
Il 2 dicembre scorso si è spento a Lugano l'italiano Arrigo Castelli. Fu lui nel 1947 a inventare e brevettare qualcosa che i nostri lettori ben conoscono…il magnetofono.
Prima a filo d'acciaio, poi a nastro magnetico…e John Cage, la musica elettroacustica, la disco, la house, la tecno, il rock progressivo avevano già   tutto quello di cui c'era bisogno:
un microfono, e il registratore (Schaffer no, lui usò sempre il vinile…uomo di radio, del nastro, chissà   come, non si fidava).
Grazie ad Arrigo Castelli, e a quel primo suono registrato:
un fruscio provocato da me, nello scantinato dello zio, a Como.
Sara Lenzi is Director of Marketing at Sonoport. With more than a decade of experience in sound design and audio branding consultancy, she writes about all the multifaceted aspects of sound in communication. She is an international lecturer and founder of Lorelei Sound Strategies, the first sound branding boutique studio in Asia. Sara has a Master Degree in Philosophy from the University of Bologna and she is starting her PhD at the University of Bilbao, Spain. She lives in Singapore, where she spends her free time in tireless exploration of local food stalls and vintage shops, sipping cocktails in the tropical humidity and diving with giant turtles in the South China Sea.
Latest posts by Sara Lenzi (see all)