Come promesso, eccolo qui…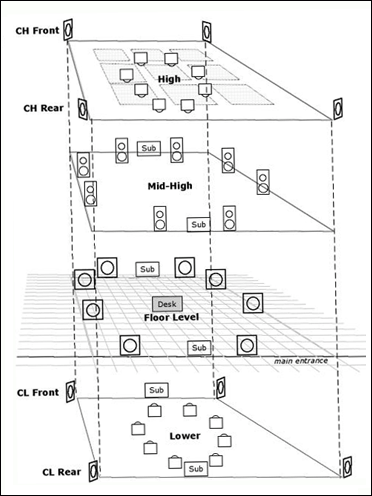 Ebbene sì, gli studenti dei corsi di cui sopra hanno la fortuna di studiare, fare ricerca, esibirsi in questo spazio unico.
48 canali indipendenti controllano 60 altoparlani Genelec e Meyer; inoltre a scanso di equivoci l'intero spazio è stato cablato e predisposto per 112 diffusori, quindi l'elasticità   nel posizionare fisicamente gli altoparlanti è massima.
Alcuni dati, per partire: il parallelepipedo misura 17 X 13 per un'altezza di 14 metri. Ci sono un "pavimento" reale – Lower, nella riproduzione– e un soffitto reale – High. Gli altri livelli, il floor level dove si sistema il pubblico (fino a 150 persone) e il Mid-High, sono creati artificialmente.
Mi spiego: il floor level poggia in realtà   su una serie di pannelli acusticamente trasparenti , che permettono quindi di sentire attraverso il pavimento le emissioni dei diffusori sistemati al piano terra. Questi pannelli, fissi e modulari, sono di fatto sospesi a circa 4 metri dal vero piano 0.
Mid-High: il terzo livello si trova ad ulteriori 7 metri dal floor level, sotto forma di un binario che corre lungo il perimetro della struttura, e al quale si agganciano i diffusori.
High: siamo al soffitto (reale). Si tratta di una griglia composta da pannelli in alluminio di 2 m X 1 m, che possono muoversi indipendentemente l'uno dall'altro fino a scendere al livello floor. Microfoni, luci e soprattutto diffusori sono appesi ai pannelli e possono quindi essere orientati e spostati a diverse altezze.
Non finisce qui, perchè lo spazio è dotato di pannelli fonoassorbenti (48, ancora) che si muovo lungo l'asse verticale così da poter essere, all'occorrenza, abbassati o alzati. Inoltre sono a disposizione 300 "assorbitori portatili" (non sorridete, fossero pure 300 cuscini, non li si trova così facilmente dovessero servire all'ultimo minuto!). Grazie a questo sistema, a 1Khz il riverbero può essere controllato tra 0.4 e 2.3 secondi.
La regia si trova al ground floor, ed è controllata attraverso un "semplice" tutto sommato G5…che pare non tradisca mai. C'è una Digidesign Control – 24 coadiuvata da tre schede Digidesign 192 I/O che governano nel complesso 24 canali analogici in ingresso e 48 in uscita. Mixer, l'immancabile DM1000 della Yamaha.
Quanto ai diffusori, come abbiamo detto i fortunati amici irlandesi non hanno badato a spese:
ground floor
4 Genelec 1038B + 4 Genelec 1037C in posizione ottofonica con relativi 2 subwoofer (7071A), 4 Meyer UPJ-1P in quadrifonia (ma ne sono previste fino a 8 con 2 sub)
floor level
8 Meyer UPJ-1P sempre in ottofonia + 2 subwoofer Meyer (sempre UPJ-1P)
Mid-High & High
8 Meyer dello stesso tipo + subwoofer, 4 Meyer agli angoli del soffitto + 8 Genelec in ottofonia, per non farsi mancare proprio niente.
Come ho già   detto le configurazioni possibili sono molte di più. Le uscite previste già   predisposte sono infatti 40 al piano terra, 20 al piano di accesso del pubblico, 16 alla griglia mobile e 4 per pannello nei 9 pannelli del soffitto.
Per dirla con il Direttore di Ricerca del Centro, Pedro Rebelo, nell'intervista rilasciata al sito della Apple,
C'è una bella differenza tra lo staresene seduti da soli in uno studio e l'eccitazione fisica ed emotiva che ti assale quando sali sul palco e cerchi di far funzionare le tue idee davanti alle altre persone.
E, aggiungo io, con un palco così…
Sara Lenzi is Director of Marketing at Sonoport. With more than a decade of experience in sound design and audio branding consultancy, she writes about all the multifaceted aspects of sound in communication. She is an international lecturer and founder of Lorelei Sound Strategies, the first sound branding boutique studio in Asia. Sara has a Master Degree in Philosophy from the University of Bologna and she is starting her PhD at the University of Bilbao, Spain. She lives in Singapore, where she spends her free time in tireless exploration of local food stalls and vintage shops, sipping cocktails in the tropical humidity and diving with giant turtles in the South China Sea.
Latest posts by Sara Lenzi (see all)