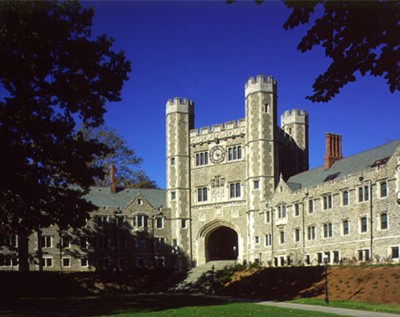 Sonic Fragments è un festival dedicato alla sound art e non solo. Si svolge il 28 e il 29 marzo di quest'anno nella prestigiosa Princeton University.
La call, aperta fino al 15 febbraio, si presenta particolare: gli organizzatori sono alla caccia di opere sonore (dai 10 minuti in giù), composte specificamente per l'evento, anzi per i luoghi di Princeton e dintorni, ed espressamente per essere diffuse tramite lettori mp3.
I quali lettori verrano distribuiti al pubblico della due giorni di simposi, dibattiti e performance; conterranno le opere site spcific selezionate, che saranno anche scaricabili dal sito dell'Università  . Così che i visitatori potranno esplorare il campus interpretando a loro modo l'originale sound track, composta da altri che hanno immaginato, interpretato e ricostruito (audiovisto, anche a distanza) quegli stessi luoghi.
Fondamentale prendere visione approfondita degli spazi. E' consigliata in primo luogo la visione di
Altri link utili:
Per maggiori informazioni scrivete a Betsy Biggs.
Sara Lenzi is Director of Marketing at Sonoport. With more than a decade of experience in sound design and audio branding consultancy, she writes about all the multifaceted aspects of sound in communication. She is an international lecturer and founder of Lorelei Sound Strategies, the first sound branding boutique studio in Asia. Sara has a Master Degree in Philosophy from the University of Bologna and she is starting her PhD at the University of Bilbao, Spain. She lives in Singapore, where she spends her free time in tireless exploration of local food stalls and vintage shops, sipping cocktails in the tropical humidity and diving with giant turtles in the South China Sea.
Latest posts by Sara Lenzi (see all)