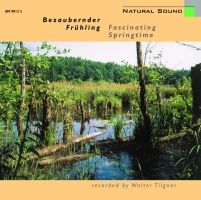 Ci siamo chiesti, sulla scia di alcuni post di Gianpaolo e di alcuni commenti dei nostri lettori, quale utilizzo creativo, o meglio compositivo e eminentemente musicale si può fare delle banche dati sonore community based. Se cioè suoni a volte chiavi-in-mano possono costituire un valido materiale di partenza anche per chi si dedica soprattutto alla ricerca sonora, o se invece siano ottime risorse per sound designer, più vicini a suoni-funzione …
Si tratta però di una questione molto interessante, alla quale voglio aggiungere un tassello.
E' del 2005 la nuova pubblicazione del naturalista Walter Tilgner per la prestigiosa etichetta Wergo. Tilgner è una persona straordinaria, per moltissimi versi, che ho avuto il piacere di incontrare e che mi è stato guida in una interessante e piovosa passeggiata sonora in quel del Casentino. Di formazione scientifica, è stato un pioniere della registrazione binaurale in campo aperto, tanto che riuscì a coinvincere la sua (inizialmente) scettica università   a mettergli a disposizione la fantastica dummy head della Neumann per poter portare avanti le ricerche sul natural soundscape al massimo della qualità  .
Tilgner è uomo paziente, e lo si sente al volo. Le registrazioni di Fascinating Springtime sono a dir poco ottime. Si tratta di una selezione delle registrazioni condotte per oltre un ventennio attorno al Lago di Costanza. L'autore afferma di averle scelte, e presentate nella pubblicazione, non tanto secondo un criterio compilativo, o cronologico, ma secondo un criterio compositivo. L'assenza di soluzione di continuità   tra le tracce risponde proprio all'esigenza di creare un affresco, un documentario sonoro.
E veniamo al dunque: Luc Ferrari, dall'interno del mondo musicale, ha portato avanti una ricerca sonora, portando a compimento una precisa scelta estetica, che sulla carta si avvicina molto alla ricerca di Walter Tilgenr. Ferrari parla di fotografie sonore, musica aneddotica (paesaggio sonoro no, non l'ha mai utilizzato…). Anche Ferrari registrava ore di materiale, per poi presentarlo senza modifiche e trattamenti.
Basta però ascoltare i primi venti secondi di Presque rien per rendersi conto immediatamente che si tratta di due approcci e due ricerche ben diverse.
Walter Tilgner è uno scienziato, dall'altissima sensibilità   sonora e acustica. Luc Ferrari era un compositore, che ad un certo punto della sua ricerca ha compiuto una radicale scelta estetica. Tutto questo le nostre orecchie lo intendono subito. Di che si tratta? L'arte sta nell'intenzione dell'artista, o nell'opera d'arte stessa?
Personalmente, abbozzo una risposta,e aspetto i vostri suggerimenti…secondo me, la parolina magica è montaggio…
Sara Lenzi is Director of Marketing at Sonoport. With more than a decade of experience in sound design and audio branding consultancy, she writes about all the multifaceted aspects of sound in communication. She is an international lecturer and founder of Lorelei Sound Strategies, the first sound branding boutique studio in Asia. Sara has a Master Degree in Philosophy from the University of Bologna and she is starting her PhD at the University of Bilbao, Spain. She lives in Singapore, where she spends her free time in tireless exploration of local food stalls and vintage shops, sipping cocktails in the tropical humidity and diving with giant turtles in the South China Sea.
Latest posts by Sara Lenzi (see all)