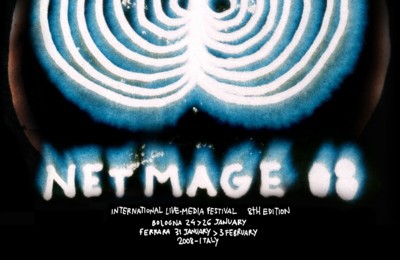 Commenti, in ordine sparso, su questa VIII edizione di Netmage.
Molto diverso dalla scorsa edizione, quest'anno il festival è stato vetrina di una visione rock, oserei dire metal, delle arti elettroniche.
Venerdì sera nella sala principale del bel palazzo Re Enzo trionfava il rumore – passatemi il termine – condito da una scatenata batteria dal vivo e immagini di star della musica pop degli ultimi vent'anni. Dora Video e Safy Sniper hanno presentato un progetto molto interessante dedicato al rapporto tra immagine e sonoro. DoraVideo (vero nome Yoshimitsu Ychiraku) con la batteria live e Safy Sniper al laptop, si sono esibiti in un triplo set. Punto cruciale della performance, la possibilità   di agire sul sonoro originale delle immagini – vecchi film orientali, classici del giallo (da Shining a Psycho), assurdi videoclip giapponesi, George Bush, un'intera sezione dedicata a Queen, Barbara Streisand, i Jackson Five…- agendo sulle immagini. Il risultato dava l'idea di un bizzarro mix di slow motion sonoro, loop audiovisuali, decostruzione di suono/immagine, collage audiovisivi, ipersincronizzazione batteria/clip, il tutto rinforzato da una talvolta spessa presenza di noise. Risultato: un divertente omaggio alla Plunderphonia di Oswald e al collage di Chris Cutler, bref, un omaggio agli anni'60…
Di grande impatto, non c'è che dire. Poca ricerca sul suono, e anche se in questo caso il progetto fila, diverte e coinvolge, in altri si resta un po' a bocca asciutta.
E' il caso dei polacchi emiter_franczak. Marcin Dymiter per il suono e Ludomir Franczak al video lavorano sul rapporto di contenuto e di linguaggio tra i rispettivi media. Peccato che il materiale sonoro di partenza sia costituito dai soliti suoni sintetici, per la maggior parte presi nudi e crudi e sbattuti in faccia all'ascoltatore con un eccesso di decibel che rasenta in molti casi la saturazione, dovuto anche all'abuso del fronte stereo – in una location che avrebbe goduto di un maggiore utilizzo e sfruttamento dello spazio…
Luka Dekleva dalla Slovenia lavora sull'idea di feedback visivo, che poi si concretizza nella presenza costante di sintesi non lineare e di effetto neve lavorato sullo schermo. A differenza di Dymiter, Luka però lavora sullo spazio, almeno inteso come sfruttamento dei due canali.
Strana la disposizione dell'intero set, diversa da quella dell'anno scorso. Palco, due schermi + tre schermi da home theatre, fronte stereo, si trovano sull'estrema sinistra entrando. Davanti ad essi si apre la grande sala. All'estremità   opposta c'è il bar con un altro fronte stereo che replica quello proveniente dal palco, nella vasta parte centrale ci sono gli altri schermi, disposti ad angolo (3 sul lato più lungo + 1). Peccato perchè con quattro punti di diffusione in uno spazio suggestivo si possono fare grandi cose…
Detto questo, il pezzo forte dell'edizione è sicuramente l'installazione Pneumatic Sound Field dell'olandese Edwin van der Heide. Ma di questo vi parlerò un'altra volta.
Sara Lenzi is Director of Marketing at Sonoport. With more than a decade of experience in sound design and audio branding consultancy, she writes about all the multifaceted aspects of sound in communication. She is an international lecturer and founder of Lorelei Sound Strategies, the first sound branding boutique studio in Asia. Sara has a Master Degree in Philosophy from the University of Bologna and she is starting her PhD at the University of Bilbao, Spain. She lives in Singapore, where she spends her free time in tireless exploration of local food stalls and vintage shops, sipping cocktails in the tropical humidity and diving with giant turtles in the South China Sea.
Latest posts by Sara Lenzi (see all)