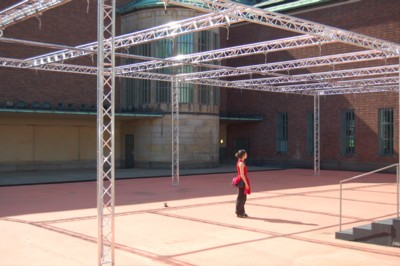 [Pneumatic Sound Field @
Museum Boijman van Beuningen
–
DEAF 2007
, photo by E.van der Heide]
Sarà   in mostra a Ferrara, in Piazza del Municipio, fino a domenica, Pneumatic Sound Field, il bel lavoro dell'olandese Edwin van der Heide…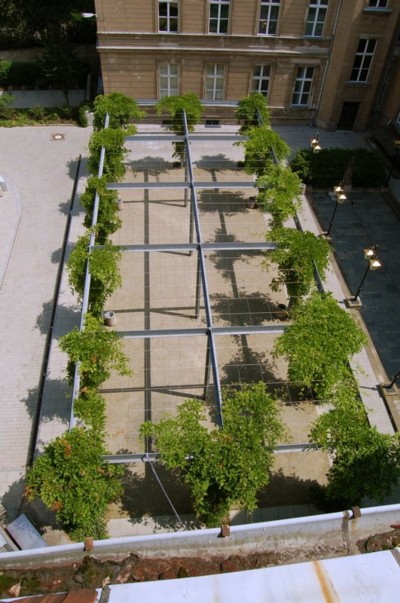 [Pneumatic Sound Field @
Tesla
, Berlin,
Sonambiente
2006, photo by E. van der Heide]
…che ha preso possesso del voltone di Palazzo Re Enzo durante il Netmage.
Come dicevo, secondo me il pezzo forte di questa edizione. Di forte impatto visivo. Una struttura di acciaio di circa 10 metri per 20, per altri 5 d'altezza, sorregge la fonte sonora del lavoro: una griglia di 6 X 7 valvole ad aria compressa, controllabili in maniera indipendente (discreta) + 4 valvole controllabili in maniera proporzionale.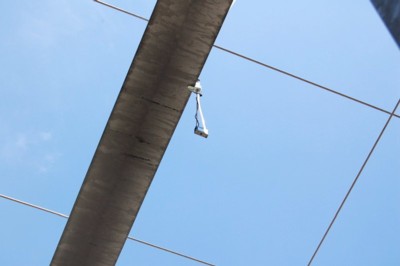 [photo by E. van der Heide]
Controllate via software, le valvole emettono il suono – si tratta di fatto del soffio dell'aria compressa – in base a tre parametri: velocità  , direzione, intensità   (della pressione dell'aria).
Abbiamo detto controllabili in maniera discreta ed indipendente: all'ascolto sembrerebbe infatti che l'autori giochi sui tre parametri in maniera molto dinamica.
Se la velocità   del suono (della pressione dell'aria) viene percepita dall'ascoltatore in maniera discreta, molto più difficile è differenziare intensità   e direzione. il risultato dal punto di vista percettivo è molto interessante: si ha la netta sensazione di un movimento dinamico che l'orecchio tende ad attribuire a gruppi di valvole, salvo poi essere distratti da singoli movimenti apparentemente non coerenti con il movimento del gruppo. Un ottimo espediente per dare vita ad un quadro composito e mutevole con elementi sonori ridotti all'osso. I tre parametri sono controllati via software secondo regole generative che si basano su una serie di pattern variamente associati: a volte applicati in successione in altri casi sovrapposti. Un altra ottima strada per rendere il movimento apparentemente sempre diverso, con poco dispendio di energia…
Futurista dal punto di vista del materiale sonoro, Pneumatic Sound Field è però un lavoro altamente musicale. C'è una struttura strettamente compositiva nella combinazione e generazione di movimento, c'è una distribuzione dei volumi abbastanza sviluppata (altro fattore che naturalmente influisce sulla percezione dello spazio e del moviemento), c'è la sovrapposizione e la combinazione di pattern ritmici coerenti e complessi. Una riflessione sull'utilizzo anche del rumore, o per meglio dire di materiale non strettamente musicale, secondo un pensiero eminentemente musicale.
Come dire, tutto ciò che mancava nel rumoroso (e a tratti noioso) live Netmage del piano di sopra…
All the photographs are realised by & courtesy of the author. Thank you Edwin!
Sara Lenzi is Director of Marketing at Sonoport. With more than a decade of experience in sound design and audio branding consultancy, she writes about all the multifaceted aspects of sound in communication. She is an international lecturer and founder of Lorelei Sound Strategies, the first sound branding boutique studio in Asia. Sara has a Master Degree in Philosophy from the University of Bologna and she is starting her PhD at the University of Bilbao, Spain. She lives in Singapore, where she spends her free time in tireless exploration of local food stalls and vintage shops, sipping cocktails in the tropical humidity and diving with giant turtles in the South China Sea.
Latest posts by Sara Lenzi (see all)