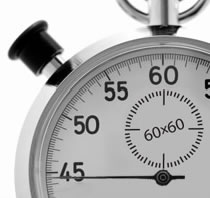 Sessanta brani della durata massima – rigorosamente – di 60 secondi. Il tutto presentato senza soluzione di continuità  , per un'ora di arte dei suoni fissati.
Scade il 31 marzo prossimo la call la nuova edizione di 60X60, concerto/evento promosso e realizzato dalla newyorkese Vox Novus.
Vox Novus è un collettivo che raduna più di 100 compositori e poi esecutori, curatori, organizzatori e critici nel campo della musica contemporanea. Convinti sostenitori della ricerca sul suono, la loro missione è proprio quella di diffonderla attraverso iniziative e concerti, rendendola più vicina al grande pubblico.
60×60 si tiene ogni anno. L'esordio è New York City, poi il flusso sonoro prosegue il suo viaggio verso un centinaio di destinazioni sparse per il mondo. Durante l'esecuzione un orologio analogico (e gli organizzatori sottolineano analogico) scandisce i secondi. Lo 0′ marca la fine di una brano e l'inizio del precedente. L'esperimento è interessante. Ed è una sorta di sfida per il compositore il creare una pillola compiuta stando nel limite dei sessanta secondi.
Due avvertenze: il brano può essere anche inferiore al minuto, in quel caso verrà   inserito del silenzio prima o dopo; non ci sono limiti di materiale o forma o genere, tuttavia qui si tratta di musica su supporto, che nasce per supporto. Non saranno accettate (o quantomeno sono scoraggiate) registrazioni di brani live, di performance, o presentazione di partiture.
Sara Lenzi is Director of Marketing at Sonoport. With more than a decade of experience in sound design and audio branding consultancy, she writes about all the multifaceted aspects of sound in communication. She is an international lecturer and founder of Lorelei Sound Strategies, the first sound branding boutique studio in Asia. Sara has a Master Degree in Philosophy from the University of Bologna and she is starting her PhD at the University of Bilbao, Spain. She lives in Singapore, where she spends her free time in tireless exploration of local food stalls and vintage shops, sipping cocktails in the tropical humidity and diving with giant turtles in the South China Sea.
Latest posts by Sara Lenzi (see all)