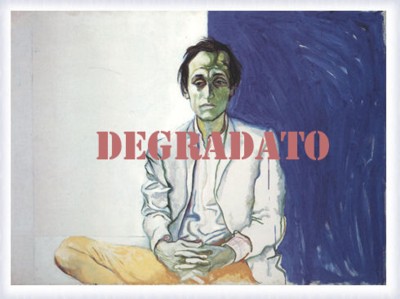 Il laboratorio Nòvalab del Sole 24 ore sta portando avanti un'interessante iniziativa: Degradarte.
Anche se, quando l'avrò spiegata, molti di voi sorrideranno. Ho sorriso anch'io: avevo appena finito di completare il processo al quale la call in questione si riferisce. Ovvero trasformare – degradare se vogliamo, dipende dal punto di vista – materiale già   esistenti su supporto digitale. Chi di noi non ha mai modificato un'immagine, una battuta, una voce, un a solo, appartenenti a qualcun'altro? Ad un qualcun'altro cioè, che ha già   registrato, modificato, fissato questo materiale. E che dunque, secondo la legge internazionale sul diritto d'autore, lo possiede.
Inutile discutere qui i limiti di un sistema che mostra le crepe anzi veri e propri burroni di fronte all'avanzare di uno sviluppo tecnologico democratico in quanto alla portata se non di tutti, di moltissimi. Inutile qui citare il buon vecchio L'opera d'arte nell'epoca della sua riproducibilità   tecnica – inutile ricordare che il buon Benjamin ne aveva viste tante, ma ancora niente in confronto a quello che è la riproducibilità   oggi.
E allora passiamo alla pratica, come fa il progetto DegradArte. Promosso dall'esperto di internet e di filosofia del linguaggio (due cosettine che mi interessano molto) Guido Vetere e da Art is Open Source, si tratta di una call per opere molto particolari. Il bando recita esattamente:
scegli un oggetto (sonoro, aggiungiamo noi) coperto da copyright
degradalo, applicando uno o più processi digitali che ne diminuiscano la qualità   del contenuto (e anche in questo siamo esperti, anche se aggiungerei che il concetto di diminuzione della qualità   è quantomeno relativo)
assicurati che nell'opera finita l'oggetto sia perfettamente riconoscibile […]
inviaci la tua opera degradata
Nel mezzo di DegradArte sta il discusso e un po' bizzarro articolo del recente (22//07) disegno di legge S1861:
E' consentita la libera pubblicazione attraverso la rete internet, a titolo gratuito, di immagini e musiche a bassa risoluzione o degradate, per uso didattico o scientifico e solo nel caso in cui tale utilizzo non sia a scopo di lucro.
Non mi dilungo nei commenti, ma vorrei far notare che almeno a prima vista non è facile cogliere il nesso tra l'uso didattico e la degradazione, tra la scienza e la bassa qualità  , e in fondo nemmeno quello tra la bassa risoluzione e la degradazione. Più facile invece rassegnarsi all'assenza di scopo di lucro…
Bene, le opere degradate non si sono fatte attendere, e nell'apposito spazio virtuale (che diventerà   poi evento pubblico reale) se ne trovano alcune di interessanti, soprattutto, a dire il vero nell'ambito dell'arte visiva.
Segnalo a titolo di esempio e per un certo senso nostalgico "La Nona di Beethoven", e Psicosoma di Luigi Pagliarini, uno dei rari contributi soltanto sonori. Da notare il Carmelo Bene di "Pinocchio vs infinito". Degradatissimo fino al fastidio, ma ad un livelo ancora sufficiente per internet, come recita il suo autore.
Anche per questa ragione, chè con il suono ci sarebbe da sbizzarrirsi, vi invito a dare un'occhiata, ma soprattutto a contribuire.
Sara Lenzi is Director of Marketing at Sonoport. With more than a decade of experience in sound design and audio branding consultancy, she writes about all the multifaceted aspects of sound in communication. She is an international lecturer and founder of Lorelei Sound Strategies, the first sound branding boutique studio in Asia. Sara has a Master Degree in Philosophy from the University of Bologna and she is starting her PhD at the University of Bilbao, Spain. She lives in Singapore, where she spends her free time in tireless exploration of local food stalls and vintage shops, sipping cocktails in the tropical humidity and diving with giant turtles in the South China Sea.
Latest posts by Sara Lenzi (see all)