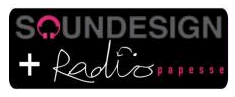 Ebbene sì, vi abbiamo preparato un'altra sorpresa…da mercoledì 19 marzo sounDesign non solo si legge ma si ascolta.
Sulle frequenze virtuali di Radio Papesse, per 11 settimane, sounDesign sarà   presente con le 11 pillole sonore "Questo non è…" – variazioni sul tema dello straniamento sonoro.
Come sappiamo, nell'era del suono fissato, ogni oggetto sonoro opportunamente modificato può assumere significati profondamente diversi; può suggerire, e poi nascondersi; può mostrare un'identità  , e possederne un'altra. I soundskecth giocheranno sui temi della trasformazione del suono e dunque del suo significato, nell'intento di spingere l'ascoltatore a risalire alla fonte del suono originario…
E dunque: ogni mercoledì alle 18,00 tutti in ascolto per la prima. Se doveste perdere lo sketch, lo potrete riascoltare nei giorni successivi all'interno del flusso quotidiano di Radio Papesse, oppure scaricare dalla sezione podcast per riascoltarlo a piacimento.
In attesa del debutto ringraziamo Carola, Ilaria e Cristiano di Radio Papesse e salutiamo e ringraziamo Megumi che si è prestata a collaborare con pazienza e che ormai ci ascolterà   dal Giappone!
Sara Lenzi is Director of Marketing at Sonoport. With more than a decade of experience in sound design and audio branding consultancy, she writes about all the multifaceted aspects of sound in communication. She is an international lecturer and founder of Lorelei Sound Strategies, the first sound branding boutique studio in Asia. Sara has a Master Degree in Philosophy from the University of Bologna and she is starting her PhD at the University of Bilbao, Spain. She lives in Singapore, where she spends her free time in tireless exploration of local food stalls and vintage shops, sipping cocktails in the tropical humidity and diving with giant turtles in the South China Sea.
Latest posts by Sara Lenzi (see all)