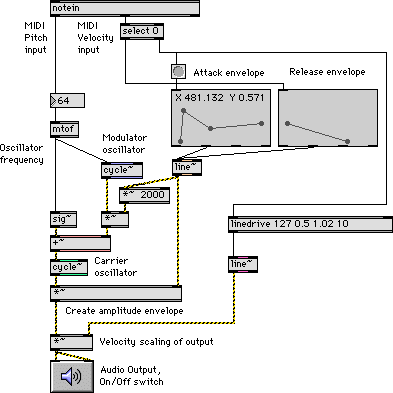 La primavera che avanza porta con sè un paio di opportunità   di formazione molto interessanti per i nostri lettori, musicisti, sound designer o compositori che siano.
Le proposte vengono da Tempo Reale – Centro di produzione ricerca e didattica musicale in quel di Firenze e DiDstudio a Milano.
Di che si tratta? Naturalmente, alla vigilia dell'uscita della 5° versione, stiamo parlando di lui: Mr. Max.
Scade il 31 marzo prossimo il bando per parecipare alla selezione dei 10 partecipanti (di cui 5 rappresentanti del gentil sesso) al corso di aggiornamento promosso da Tempo Reale e cofinanziato dal Fondo Sociale Europeo in collaborazione con la Provincia di Firenze.
Le lezioni si terranno il venerdì e il sabato durante il mese di maggio. La partecipazione al corso è totalmente gratuita e al termine verrà   rilasciato un certificato di frequenza.
Queste le unità   formative previste:
Fondamenti della programmazione ad oggetti;
Implementazione di algoritmi per l'elaborazione in tempo reale;
Strutture dati per l'elaborazione di partiture nei linguaggi di programmazione per l'audio digitale;
Integrazione dei linguaggi di programmazione tradizionale nei linguaggi ad oggetti;
Sicurezza e diritti dei lavoratori.
Tra i docenti: Damiano Meacci, Francesco Canavese, Tommaso Selvetti e Tommaso Dini.
Il bando è scaricabile qui. Attenzione: per partecipare sono necessari alcuni requisiti.
A Milano i docenti saranno invece Paolo Solcia e Federico Lupica. Il corso si svolgerà   in 5 moduli di 4 ore (2 di teoria + 2 di laboratorio) frequentabili anche separatemente durante il mese di aprile (le domeniche e il sabato). Sede di svolgimento: La Fabbrica del Vapore in via Procaccini, 4.
Temi trattati:
Max startup;
Elementi di programmazione;
MSP – elementi audio;
Jitter – elementi video;
Connecting (protocollo MIDI e OSC).
Il corso è a pagamento: 120 Euro per tutti e 5 i moduli, 30 Euro per singolo modulo.
Per info e iscrizioni: info@aiep.org oppure al telefono allo 02/3450992.
Termine ultimo per le iscrizioni il 29 marzo.
Sara Lenzi is Director of Marketing at Sonoport. With more than a decade of experience in sound design and audio branding consultancy, she writes about all the multifaceted aspects of sound in communication. She is an international lecturer and founder of Lorelei Sound Strategies, the first sound branding boutique studio in Asia. Sara has a Master Degree in Philosophy from the University of Bologna and she is starting her PhD at the University of Bilbao, Spain. She lives in Singapore, where she spends her free time in tireless exploration of local food stalls and vintage shops, sipping cocktails in the tropical humidity and diving with giant turtles in the South China Sea.
Latest posts by Sara Lenzi (see all)