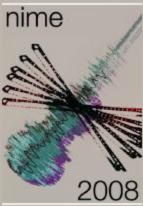 Il centro internazionale d'eccellenza Casa Paganini e il laboratorio InfoMus Lab del Dipartimento di Informatica Sistemistica e Telematica dell'Università   di Genova organizzano anche per quest'anno la nuova edizione del NIME, la conferenza internazionale sulla nuove interfacce per l'espressione musicale, che si terrà   a Genova dal 5 al 7 giugno.

Obiettivo della conferenza è lo studio e l'approfondimento di temi legati alle nuove interfacce per la realizzazione di performance musicali, come i controller, gli augmented instruments, la sonificazione interattiva, la bio-musica, i sensori, e così via.
Per capire meglio le coordinate entro cui si muove il concept della conferenza, vi basti pensare che i tipi di InfoMus Lab sono i principali artefici di EyesWeb, una delle piattaforme open più interessanti degli ultimi anni in ambito musicale/interattivo.
Se siete interessati a partecipare come autori purtroppo i giochi sono fatti, in quanto le deadline per la submission di lavori sono state già   raggiunte, tuttavia c'è un'interessante opportunità   per partecipare in altro modo a questa interessante settimana sonora in quel di Genova.
Dal 9 all'11 giugno infatti verrà   svolta la Summer School dedicata alla promozione e educazione della ricerca nel campo della Sound and Music Computing, che quest'anno si concenterà   in particolare sui seguenti temi: Gesture and Music, Embodied Music Cognition, Mobile Music Systems and Active Music Listening.
Le iscrizioni in questo caso sono aperte fino al 15 maggio, e i costi sono allettanti (200 euro regular e 150 euro student). Un'occasione da non perdere.
Anche in questo caso cercheremo di essere presenti per fare un report di quello che succederà  .
Gianpaolo D'Amico is an independent creative technologist for digital media. He is the founder of sounDesign and a music obsessed since he was 0 years old.
Latest posts by Gianpaolo D'Amico (see all)