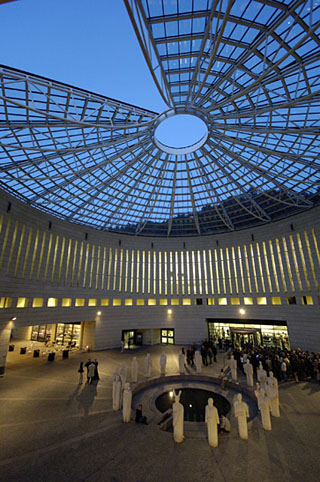 Dal 5 al 10 maggio si prossimi si terrà   a Rovereto in Trentino e per il terzo anno Futuro Presente. Le edizioni passato hanno avuto carattere monografico – da Cunningam a Philip Glass, a Bernardo Bertolucci. Quest'anno, per la nostra soddisfazione, la rassegna ha per tema Arte e Nuove Tecnologie.
E il programma mantiene le promesse: ci saranno installazioni. Quelle di Studio Azzurro per le vie e le piazzette del centro storico di Rovereto – Dal crepuscolo a notte fonda il titolo. Quella interattiva (con telecamere a riprendere l'attività   nella piazza del Mart) del coreografo William Forsythe. Quella del designer Joshua Davis, vincitore tra le altre cose del Golden Nica – Ars Electronica 2001.
Per i live invece si parte il 5 maggio con i Mouse on Mars che propongono una performance audiovisiva con le immagini di Werner Herzog. Altro pezzo forte è Ryoki Ikeda, 7 maggio all'auditorium del MART. Venerdì 9 performance sensoriale dello spagnolo Francisco Lopez e dei suoi paesaggi sonori al buio. Tanti altri: Vladislav Delay, Christian Fennesz, Pfadfinderei & Modeselektor, eRikm, Klaus Obermaier & Chirs Haring…tutti impegnati in performance audio/video.
Sezione incontri, ce n'è per tutti: Lelio Camilleri, il team di Studio Azzurro al completo, Domenico Quaranta, Peppino Ortoleva, lo stesso Joshua Davis e tutti gli altri protagonisti delle performance. Segnaliamo Bruno Fornara che parlerà   del grande Zbigniw Rybzcynski, animatore del più fecondo studio di arte elettronica nella Polonia sovietica. Ci aspettiamo molto da Maria Grazia Mattei di MGM Digital Communication, che dal 2005 organizza gli incontri di Meet the Media Guru a Milano, e da Matteo Bittanti in videoconferenza dalla Stanford University che parlerà   di…videogiochi!
I concerti all'Auditorium Fausto Melotti (Auditorium del MART) prevedono un biglietto a 15 Euro. 5 per i concerti nella piazza del Polo Museale, ingresso gratuito alla sezione Incontri e alle installazioni (naturalmente…!).
Noi cercheremo di esserci…
Sara Lenzi is Director of Marketing at Sonoport. With more than a decade of experience in sound design and audio branding consultancy, she writes about all the multifaceted aspects of sound in communication. She is an international lecturer and founder of Lorelei Sound Strategies, the first sound branding boutique studio in Asia. Sara has a Master Degree in Philosophy from the University of Bologna and she is starting her PhD at the University of Bilbao, Spain. She lives in Singapore, where she spends her free time in tireless exploration of local food stalls and vintage shops, sipping cocktails in the tropical humidity and diving with giant turtles in the South China Sea.
Latest posts by Sara Lenzi (see all)