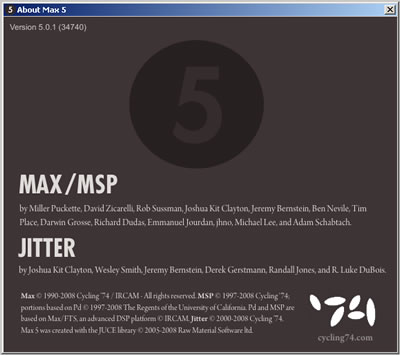 Insomma alla fine ci hanno fatto una bella sorpresa. Quando sei lì che ti rilassi e pensi che ci vorrà   ancora del tempo prima dell'uscita numero 5. E invece ecco la notizia.
Sul sito della Cycling '74 campeggia un titolo profetico: Welcome to Max 5: Max for the next 20 years.
Ci siamo finalmente: potete scaricare la nuova versione di Max, che contiene Max, MSP e Jitter.
Il prezzo del bundle si aggira intorno ai 495 dollari. Ovviamente anche stavolta sono previsti sconti per gli upgrade e licenze particolari per un utilizzo di tipo educational.
Se volete farvi un'idea veloce di quello che si può fare è possibile leggere la documentazione, che finalmente la Cycling '74 ha deciso di rendere disponibile online.
Ho appena installato la nuova versione di Max su un sistema operativo Windows XP e tutto gira abbastanza fluido. Molti commenti sul sito di CreateDigitalMusic criticano l'aumento del carico di CPU da parte dell'interfaccia, ma ritengo che molti problemi possano essere dovuti alle difficoltà   di un sistema operativo troppo acerbo (per essere signorili) come Windows Vista.
Qualche osservazione iniziale sull"interfaccia: ovviamente tante cose sono cambiate in meglio, però una caratteristica che risalta subito all'occhio consiste nell'utilizzo di finestre separate un pò troppo eccessivo. Se volete visualizzare il patcher window, la documentazione e il manuale insieme, avete 3 finestre separate che vagano per lo schermo. Insomma, nell'era delle tabbed interfaces mi aspettavo qualche cosa di più usabile.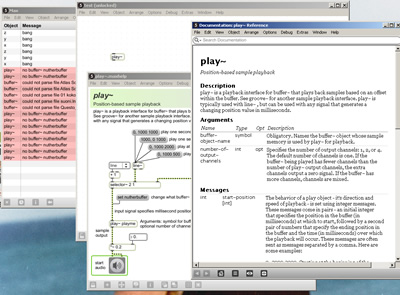 Ovviamente questo è solo l'inizio. Invitiamo tutti a dire la loro su questa nuova release che sicuramente farà   parlare di sè per molto tempo.
Gianpaolo D'Amico is an independent creative technologist for digital media. He is the founder of sounDesign and a music obsessed since he was 0 years old.
Latest posts by Gianpaolo D'Amico (see all)