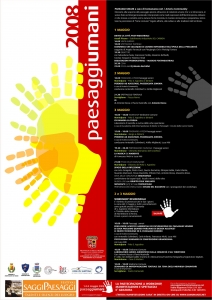 Cominciamo oggi una serie di segnalazioni per il week end del primo maggio. Ce ne sono arrivate molto, e tutte interessanti.
Paesaggi Umani si svolge dall'1 al 3 maggio nello splendido entroterra marchigiano, provincia di Ascoli Piceno.
Lo specifico perchè la tre giorni si colloca all'interno del denso programma di SaggiPaesaggi che la Provincia di Ascoli promuove facendo sua la convenzione europea sul paesaggio (RECEP). L'intento è quello di coinvolgere in maniera diretta la popolazione nelle attività   di governo del territorio. La declinazione pratica si concretizza in una serie di festival, itinerari, mostre d'arte, convegni, e paesaggi sonori…
Paesaggi Umani si svolgerà   tra i paesi di Monteleone di Fermo, Servigliano e Montelparo dalle 16,00 del Primo Maggio. In programma concerti, spettacoli, passeggiate sonore e laboratori. Tutto ma proprio tutto è a partecipazione gratuita. Compresi, per chi partecipa ai laboratori (e solo in questo caso!) il pernottamento in ostello nei tre paesini, il collegamento in pullman da e per Ascoli – e per il cibo, prezzi convenzionati.
Del programma vi diamo un assaggio, segnalando in particolare la giornata del Primo maggio nello stabilimento industriale SGL Carbon, le passeggiate sonore del 2 e 3 maggio alle 18,00 curate da Arteria Community e con Antonello Colimberti, la performance nella serata del 3 maggio a cura di Luca Miti e Francesco Michi.
Quanto ai laboratori, si svolgono il 2 e il 3 maggio, con arrivo e pernottamento a partire dall'1, e la partecipazione è richiesta per entrambi i giorni. Quello che ci interessa di più è naturalmente il primo "Educazione acustico ambientale ed esplorazione del paesaggio sonoro. Di cosa parliamo quando parliamo di design acustico? Le nuove tecnologie e il paesaggio sonoro". Sempre a cura di Arteria Community, ai nomi citati prima va aggiunto quello di Carlo Infante.
La scadenza per l'iscrizione ai laboratori era il 27 aprile…ma non temete, mi sono informata e ci sono ancora posti per chi volesse iscriversi last-minute. Questi i riferimenti:
Fabio Ragonese 0736 277 339
Giampaolo Paticchio 340 1685976
Sara Lenzi is Director of Marketing at Sonoport. With more than a decade of experience in sound design and audio branding consultancy, she writes about all the multifaceted aspects of sound in communication. She is an international lecturer and founder of Lorelei Sound Strategies, the first sound branding boutique studio in Asia. Sara has a Master Degree in Philosophy from the University of Bologna and she is starting her PhD at the University of Bilbao, Spain. She lives in Singapore, where she spends her free time in tireless exploration of local food stalls and vintage shops, sipping cocktails in the tropical humidity and diving with giant turtles in the South China Sea.
Latest posts by Sara Lenzi (see all)