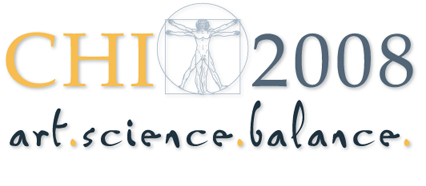 Le promesse sono promesse. Come annunciato qualche giorno fa pubblichiamo un report della conferenza CHI 2008, svoltasi a Firenze dal 5 al 10 aprile.
Il nostro inviato speciale è stavolta Nicola Torpei, ricercatore del MICC di Firenze e coideatore dell'interessante progetto TANGerINE.
Nicola si occupa di alcuni temi a noi molto cari: se siete interessati all'intersezione tra la progettazione sonora e design dell'interazione questo è il post che fa per voi.
Computer Human Interaction 2008 a Firenze
La ventiseiesima edizione della più importante conferenza scientifica sull'interazione uomo-macchina ha sede (per la prima volta) a Firenze. Sono stati 5 giorni intensi, non solo per il numero incredibile di talk e poster session (poco meno di 600 paper/notes accettati – un nuovo record mondiale) ma soprattutto per il contatto con le persone provenienti da tutto il mondo. Sono occasioni come queste che permettono il reale confronto fra ricercatori, professionisti, studenti e grandi aziende del settore.
Personalmente la mia attenzione si è indirizzata verso i settori più vicini alla mia attività   di ricerca: interaction design, natural/tangible interaction, sound design.
Inaspettatamente gli stimoli più interessanti sono arrivati proprio dal mondo sonoro. Sono state molte le session con talk relativi al suono, la più importante è stata sicuramente Sound of Music i cui contributi sono arrivati da colossi della ricerca come MIT Media Lab e Microsoft Research.
Proprio nel talk di David Merrill e Hayes Raffle (MIT) si incontrano sound design e interfacce tangibili: The Sound of Touch segue la linea di ricerca del già   famosissimo I/O Brush della Dr.ssa Ryokai; il tutto sotto la direzione di uno dei guru dell'interaction design e delle interfacce tangibili: Hiroshi Ishii.
The Sound of Touch è uno strumento per la manipolazione fisica di suoni in tempo reale; permette di acquisire eventi sonori da una sorgente esterna (per esempio una voce) e di combinarli (attraverso una convoluzione) con diverse superfici scoprendo in maniera semplice ed intuitiva le proprietà   sonore dei materiali. Sono abbastanza evidenti le reazioni degli utenti e simili reazioni ci sono state anche durante il talk di Merril & Raffle.
L'interazione tangibile e il sound design sono alla base di una delle installazione presenti nell'area delle exhibition del padiglione Spadolini: Gamelunch – the sonic dining è una installazione interattiva che studia le relazione fra interazione, suoni ed emozioni.
La conferenza in questo caso è stata l'occasione per parlare direttamente con uno dei creatori (insieme a Pietro Polotti, Stefano Papetti e Davide Rocchesso) di questo interessante progetto di ricerca: Stefano delle Monache (Università   di Verona). Chiedendo direttamente a lui quale fosse il significato dell'utilizzo di una audio augmented reality sono stato piacevolmente colpito dalla sua risposta:
[…] è una dimostazione per assurdo dell'importanza del suono nella vita quotidiana […] cerchiamo di fornire feedback sonori inaspettati e contrastanti durante un momento (la cena) di comune vita quotidiana […] il tutto è guidato dalla manipolazione di comuni oggetti da parte degli utenti.
Il binomio sound design/tangible interface si ritrova anche in un'altra interessantissima session intitolata Art, Play and Interaction dove è stata presentata Fragile: A Case Study for Evoking Specific Emotional Responses di Carla Diana del Georgia Institute of Technology.
In questa originale installazione sonora interattiva gli spettatori hanno la possibilità   di creare il proprio ambiente sonoro. L'originalità   dell'installazione consiste nella modalità   di interazione: l'ambiente sonoro è creato spostando particolari (e fragilissimi) gusci d'uovo (che tramite RFID comunicano con il sistema), in ambienti con pochissima luce; gli spettatori quindi si troveranno di fronte alla volontà   di interagire con il paesaggio sonoro ma con la paura di distruggere le fonti sonore.
In conclusione l'esperienza del CHI 2008 ha ulteriormente messo in luce l'importanza che l'interazione tangibile e il sound design stanno acquisendo all'interno del mondo della Computer-Human Interaction.
Gianpaolo D'Amico is an independent creative technologist for digital media. He is the founder of sounDesign and a music obsessed since he was 0 years old.
Latest posts by Gianpaolo D'Amico (see all)