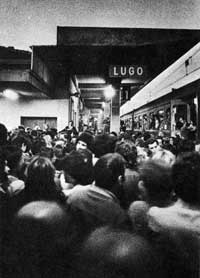 Nel trentesimo anniversario delle tre escursioni per treno preparato che John Cage realizzò a Bologna nel 1978 – e precisamente sulla tratta Bologna-Ravenna, Bologna-Porretta e Ravenna-Rimini – gli amici di Lecco non sono i soli a voler riproporre e far rivivere quell'esperienza.
Il 31 maggio e l'1 giugno è proprio Bologna che ci riprova. Sotto la supervisione e con l'organizzazione di Angelica Festival, il progetto nato dalla volontà   di Provincia di Bologna e Regione Emilia-Romagna coinvolge anche il MaMbo (Museo di Arte Contemporanea di Bologna) dove dal 30 maggio sarà   allestita una mostra sulla mitica esperienza del 1978, con documenti, fotografie, installazioni e il Museo della Musica e la Scuola Elementare di Romagnoli di Bologna.

Questi ultimi presenteranno il percorso "Take the little Cage train": 102 registrazioni rivedute e ripresentate dagli alunni della calsse V. Il materiale è stato registrato dagli stessi alunni durante una escursione sul tragitto Bologna-Porretta in treno, e sarà   riproposto in formato performance il 30 maggio alle 15,00 presso il Museo della Musica.
Lo stesso giorno, durante l'inaugurazione della mostra al MamBo, sarà   presentato il volume Alla ricerca del tempo perduto – Il treno di John Cage (ed Baskerville Artbooks, 2008), preziosa raccolta di testimonianze di quell'evento, che comprende oltre ai testi, fotografie, 3 CD audio con l'elaborazione dei materiali dei 3 viaggi e 1 DVD.
Sabato 31 e domenica 1 giugno il treno parte alle 13,45 dalla stazione centrale di Bologna.
Tre i concerti previsti, con la presenza eccezionale di Alvin Curran, collaboratore storico di Cage. Sue, oltre che di John Cage, Philip Corner e Joan La Barbara, le composizioni (e le esecuzioni) del venerdì (ore 21,30 presso MaMbo). Sabato e domenica sempre alle 21,30 sono in programma altre opere di Cage per l'esecuzione di Fontana Mix Ensemble.
Sara Lenzi is Director of Marketing at Sonoport. With more than a decade of experience in sound design and audio branding consultancy, she writes about all the multifaceted aspects of sound in communication. She is an international lecturer and founder of Lorelei Sound Strategies, the first sound branding boutique studio in Asia. Sara has a Master Degree in Philosophy from the University of Bologna and she is starting her PhD at the University of Bilbao, Spain. She lives in Singapore, where she spends her free time in tireless exploration of local food stalls and vintage shops, sipping cocktails in the tropical humidity and diving with giant turtles in the South China Sea.
Latest posts by Sara Lenzi (see all)