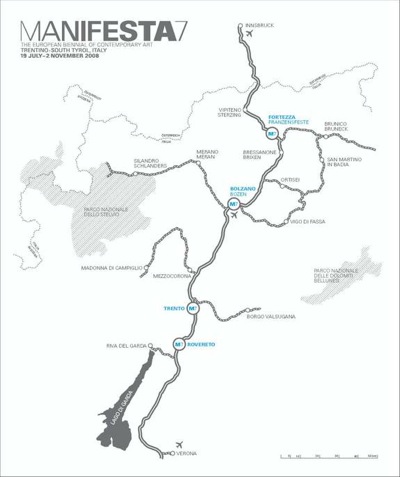 Prende il via sabato 19 luglio la VIIa edizione della Biennale europea di arte contemporanea Manifesta. Quest'anno si tiene in Italia, e in particolare in Trentino – Alto Adige, coinvolgendo le città   di Trento, Rovereto e Bolzano e il bellissimo forte asburgico di Fortezza.
Ne parliamo perchè non di solo arte di tratta bensì anche di suono, e se vi doveste trovare dalla parti dell'arco alpino…
Gli amici di Radio Papesse sono già   in posizione, e trasmetteranno in diretta da oggi al gran giorno, sabato 19.
Già   il programma di Radio Papesse si inserisce a pieno titolo in Manifesta, dal momento che oltre alle interviste con curatori e artisti proporrà   anche la trasmissione integrale di Radio Epode, progetto sonoro curato da Tobi Maier per la sezione Principle Hope – quella "collocata" a Rovereto, per intenderci. Radio Epode è una sorta di piattaforma della biennale, che trasmetterà   non solo servizi dai luoghi delle esibizoni ma anche radio opere create per l'occasione. Si comincia questo venerdì con tre lavori di Zafos Xagoraris, alle 15,45 su Radio 2 e su Radio Papesse. Lo stesso Xagoraris è presente con Distant Sounds, nel cortile della fabbrica Ex-Peterlini a Rovereto.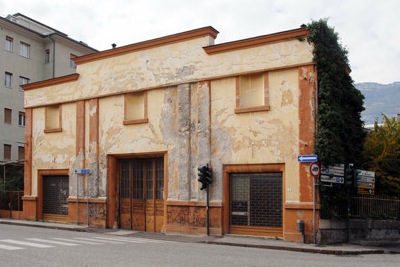 Eh sì perchè i luoghi di Manifesta sono particolari: ex fabbriche, forti asburgici, manifatture tabacchi, palazzi delle poste…insomma luoghi d'arte come piacciono a noi. Gli amici di Radio Papesse, per fare un esempio, trasmetteranno dai locali della ex fabbrica Alumix di Bolzano, lougo scelto come "polmone vivente" di tutta la manifestazione con incontri, dibattiti, performance.
Altro da segnalare: quello che succederà   alla Fortezza di Fortezza.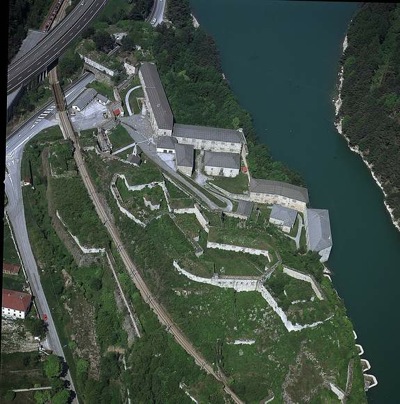 Scenarios, per quel che ne sappiamo, consisterà   in una sonorizzazione del forte centrata in particolare sul testo. Purtroppo dal sito non si riesce a capire molto di più…è un problema abbastanza diffuso quando si deve comunicare un programma ricchissimo e fatto d'arte – con le limitazioni che il linguaggio ci pone nel descrivere qualcosa che si dovrebbe solo vedere e sentire…
Comunque, cercheremo di scoprire qualcosa in più per potervi dare informazioni sul orari, tempi e quant'altro.
Sara Lenzi is Director of Marketing at Sonoport. With more than a decade of experience in sound design and audio branding consultancy, she writes about all the multifaceted aspects of sound in communication. She is an international lecturer and founder of Lorelei Sound Strategies, the first sound branding boutique studio in Asia. Sara has a Master Degree in Philosophy from the University of Bologna and she is starting her PhD at the University of Bilbao, Spain. She lives in Singapore, where she spends her free time in tireless exploration of local food stalls and vintage shops, sipping cocktails in the tropical humidity and diving with giant turtles in the South China Sea.
Latest posts by Sara Lenzi (see all)