Sono appena tornato da una tre giorni a Linz per andare a visitare Ars Electronica, uno dei più importanti festival di arte e nuove tecnologie d'Europa.
L'edizione di quest'anno si è svolta all'insegna del tema della nuova economia della cultura, ovvero di tutti gli aspetti legati ai limiti della proprietà  intellettuale nell'era dei new media.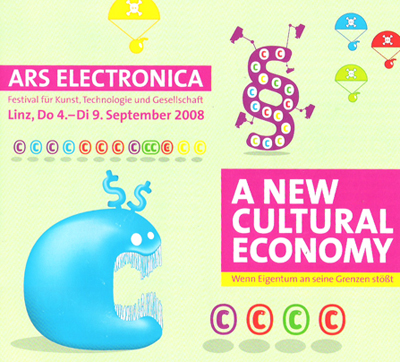 Il festival si presenta in diverse location della città , in ognuna delle quali si svolgono conferenze, performance, opere e concerti.
Ecco la prima parte di questo lungo report sul suono ad Ars Electronica, in compagnia di Nicola Torpei del MICC, che mi ha gentilmente fornito il materiale fotografico e video.

Un'installazione sonora molto interessante è Ephemeral melody, presente al Campus Tokyo, uno spazio completamente dedicato agli studenti dell'Università  di Tokyo.
Ephemeral melody viene ovviamente presentato come un strumento musicale non tradizionale, costituito da un dispositivo che, tramite una leva rotante azionata dall'utente, produce delle bolle di sapone che vanno a scontrarsi con una serie di tubi rame disposti lungo un semicerchio.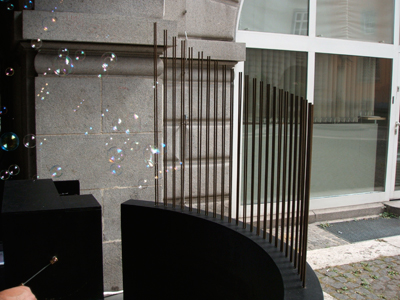 Il suono prodotto dalla collisione delle bolle è molto suggestivo, gli autori parlano di once-in-a-lifetime music. Niente di particolarmente innovativo, ma le persone si fermano come ipnotizzate e sicuramente si divertono molto. Un punto a favore dell'inventiva giapponese.
La seconda opera sonora presente al campus è Feelings of daily details, un tavolo di pietra rettangolare con alcuni piccoli fori nella parte superiore. Spostando le mani sopra i fori, l'utente provoca la generazione di una serie di suoni che cambiano in funzione del tipo di movimento effettuato. Nonostante la resa sonora sia interessante, l'opera non propone niente di nuovo, nè da punto di vista tecnologico, che da quello progettuale. Pollice verso stavolta per gli studenti del sol levante.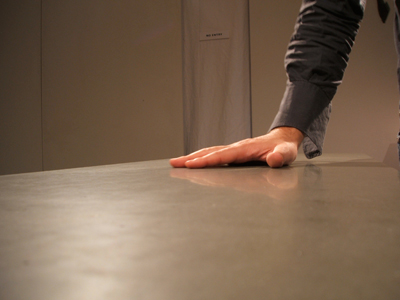 Purtroppo in serata non abbiamo potuto assistere al concerto per la presentazione del nuovo disco dei Tosca, per esaurimento delle prenotazioni.
La sfortuna ci ha portato ad assistere alla performance A small contribution to the genesis of everyday life di Miha Ciglar e Nika Autor. Avete mai provato ad ascoltare per un quarto d'ora un tipo che produce rumore (non quel rumore..ma quell'altro…) avendo un jack in bocca, una mano dentro una sfera di vetro piena di acqua e sapone, e un'altra su un controller digitale? Ok, non potete avercela con me se non ho resistito oltre.
In conclusione una prima giornata di qualità  sonora altalenante. Ma le cose sono interessanti sono dietro l'angolo…
Gianpaolo D'Amico is an independent creative technologist for digital media. He is the founder of sounDesign and a music obsessed since he was 0 years old.
Latest posts by Gianpaolo D'Amico (see all)