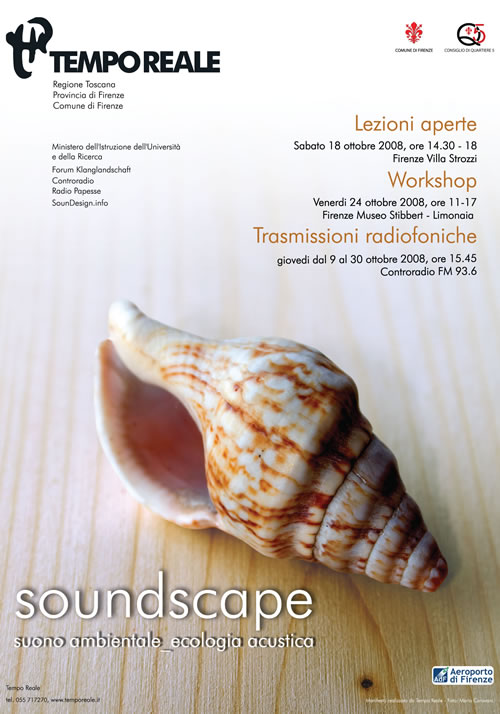 Durante il mese di ottobre si svolgerà  a Firenze Soundscape, un progetto di divulgazione del suono ambientale e dell'ecologia acustica.
L'iniziativa, organizzata da Tempo Reale in collaborazione con il Ministero dell'Istruzione dell'Università  e della Ricerca, Aeroporto di Firenze s.p.a., FKL – Forum europeo per il paesaggio sonoro, Controradio e Radio Papesse, viene promossa anche da sounDesign, grazie anche alla presenza attiva della nostra Sara in uno delle giornate più interessanti.
Ecco quindi il programma:
Ciclo di trasmissioni radiofoniche, giovedì 9, 16, 23, 30 ottobre, ore 15.45, Controradio FM 93.6. Con la partecipazione di Albert Mayr. Conduce Andrea Mi
Lezioni aperte, sabato 18 ottobre, ore 14.30 – 18.00. Firenze, Villa Strozzi (ingresso libero). Albert Mayr, L'esplorazione dell'ambiente sonoro. Sara Lenzi, Introduzione all'ecologia acustica. Francesco Michi e Mechi Cena, Il design acustico e ambientale;
Workshop sul suono ambientale e l'ecologia acustica, venerdi 24 ottobre, ore 11.00 – 17.00. Firenze, Museo Stibbert – Limonaia (ingresso libero).
Tra gli altri intervengono:
Antonio Arpini (Università di Milano)
Mechi Cena (musicista)
Stefania Giammetta (IUAV di Venezia)
Gianluca Memoli (National Physical Laboratory, London)
Francesco Michi (musicista)
Maurizio Vitali (Centro Studi musicali e sociali Di Benedetto, Lecco)
Stefano Zorzanello (Sicilian Soundscape Research Group onlus)
Per informazioni:
055717270 – www.temporeale.it
Gianpaolo D'Amico is an independent creative technologist for digital media. He is the founder of sounDesign and a music obsessed since he was 0 years old.
Latest posts by Gianpaolo D'Amico (see all)