Pubblichiamo finalmente il report e alcuni estratti sonori del workshop Sound Design: nuove forme di comunicazione creativa, che abbiamo organizzato il 26 ottobre al Festival della Creatività di Firenze.
Nello stupendo e molto (troppo) affollato scenario della Fortezza da Basso abbiamo avuto l'occasione di fare una bella chiaccherata con Valerio Murat, Davide Rocchesso, Matteo Milani, Enrico Ascoli e Nicola Torpei.
La parte iniziale del workshop è stata dedicata alla presentazione degli ospiti e dei temi che sarebbero stati affrontati. Dopodichè ogni argomento è stato introdotto da una domanda preceduta da un breve video o da una serie di immagini significative.
Il primo argomento è stato ovviamente il sound design nel cinema, introdotto da una sequenza di tre film fondamentali dal punto di vista sonoro: Paranoid Park, Il cavaliere oscuro e Wall-e.
La parola viene passata a Matteo Milani e Enrico Ascoli, che dicono la loro sullo stato dell'arte del suono per i film.
[dewplayer:http://www.soundesign.info/wp-content/uploads/2008/10/1_soundesign_cinema.mp3]
Di seguito viene affrontato uno dei temi più scottanti dell'ultimo anno di sound design: la performance live. Lo abbiamo introdotto con una sequenza provocatoria, composta da un estratto dell'ultimo tour di Cornelius e da una performance povera di Andrew Bird in un episodio della serie Les Concert a Emporter de La Blogoteque.
Un tema veramente caldo, su cui tutti gli ospiti sono intervenuti, parlando del problema della committenza, della disattenzione del pubblico, del valore odierno della laptop music e del live coding in ambito performativo.
[dewplayer:http://www.soundesign.info/wp-content/uploads/2008/10/2_esibizioni_live.mp3]
Terzo argomento è stato poi quello della sensoristica e dell'interattività , introdotto da un esilarante video,  in cui la nostra vecchia conoscenza The Amazing Rolo presenta la sua WII Loop machine durante la trasmissione Dragon's Den della BBC.
Torpei, Rocchesso, Ascoli e Murat hanno quindi parlato dell'espressività  dei nuovi mezzi per la generazione del suono, citando fra gli altri il discusso React Table e l'installazione To-gather together n.11.
[dewplayer:http://www.soundesign.info/wp-content/uploads/2008/10/3_sensori_interattivita.mp3]
Quarto argomento è stato quello del sound design degli oggetti d'uso quotidiano, introdotto da un interessante lavoro di Lise Lefebvre, una designer olandese che abbiamo intervistato recentemente (e pubblicheremo tra qualche giorno).
Milani, Ascoli, Rocchesso e Torpei analizzano e giudicano il lavoro della designer, arrivando ad evidenziare la criticità del rapporto tra design e suono.
[dewplayer:http://www.soundesign.info/wp-content/uploads/2008/10/4_product_sound_design.mp3]
Ultimo argomento è stato infine quello della didattica, in cui ognuno degli ospiti ha raccontato la propria esperienza personale, dall'università  al conservatorio, dallo IED al master post-laurea.
[dewplayer:http://www.soundesign.info/wp-content/uploads/2008/10/5_didattica.mp3]
Le due ore previste per l'incontro sono state molto intense. Il tempo è stato tiranno e avremmo voluto proseguire per altre due ore. Il workshop è stato comunque un momento di aggregazione molto importante, un'occasione unica per i nostri ospiti di conoscersi e di confrontarsi su un tema ancora giovane come quello della progettazione sonora a 360 gradi.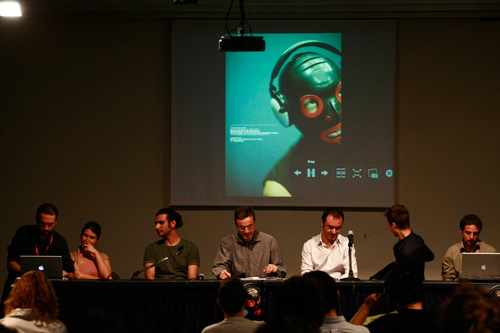 Tante cose sono da perfezionare e riorganizzare con maggiore cura, ma non possiamo non dirci soddisfatti, perchè era da tanto tempo che io e Sara volevamo organizzare un incontro di questo tipo. Per questo motivo ringraziamo non solo tutti gli ospiti invitati, ma anche tutte le persone che sono venute ad audioascoltarci.
Ultimo ringraziamento va infine al Master in Multimedia Content Design dell'Università  di Firenze e all'associazione ex-alumni del master Media Boulevard, che hanno dato l'opportunità  e il supporto per organizzare questo incontro, a cui speriamo di dare un seguito al più presto.
Gianpaolo D'Amico is an independent creative technologist for digital media. He is the founder of sounDesign and a music obsessed since he was 0 years old.
Latest posts by Gianpaolo D'Amico (see all)