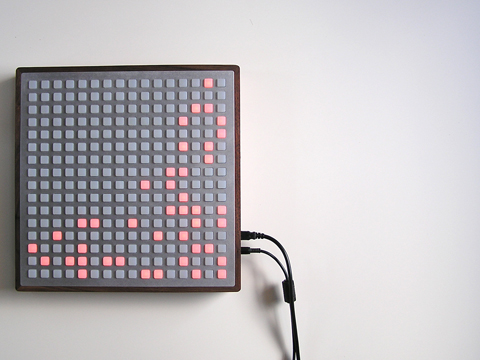 Per una settimana di seguito più persone, durante le lezioni o in mezzo ad una chiacchiera, mi hanno citato il mitico Monome, oggetto idealmente di culto già  per come si presenta. Inevitabile allora dedicare un post a questo super sequencer, bellissimo e curatissimo, in un momento in cui i suoi geniali creatori hanno sospeso le ordinazioni, e avvertono, per molti mesi a venire…
Vorrà  dire che alla fine del post avrete l'acquolina in bocca, e il primo che ne trova uno…
Monome è un potente sequencer (controller, drum machine, e quant'altro…) prodotto in quel di Philadelphia da Brian Crabtree e Kelli Cain. Nato inizialmente per supportare le loro performance, è stato poi sviluppato per la vendita in una logica basata sull'open source, sul rispetto dell'ambiente, su un progresso sostenibile da tutti i punti di vista, e perché no sullo sviluppo economico portato da tutti questi bei fattori messi insieme.
Potente, dicevo. Perché Monome possiede una tastiera quadrata (o rettangolare a seconda del modello) ricoperta di "chiavi" in silicone. Le chiavi possono essere configurate in una varietà  di combinazioni e posso controllare, l'avrete già  capito naturalmente, suoni luci e quant'altro.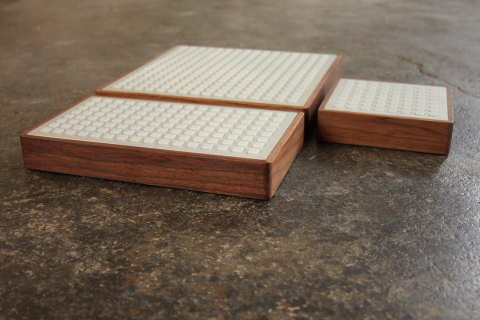 Dipende essenzialmente dal software con cui Monome lavora, ed ecco che la community che è nata attorno a questo oggettino si è data da fare. Inizialmente lavorava con segnali MIDI in ingresso e in uscita, oggi si può interfacciare in maniera molto avanzata con Ableton Live utilizzando Java.

SevenUp – New features from makingthenoise on Vimeo.
Sempre restando su Live, potete trovare una ampia documentazione oltre al download delle release di una vasta serie di applicazioni interessanti e utili.
Monome si è conquistato anche una buona posizione nella homepage della Cycling '74, dato che neanche a dirlo le interfaccia basate su Max/MSP prodotte dagli anni dagli utilizzatori del Monome si sprecano.

SevenUp – New features from makingthenoise on Vimeo.
Per finire, in attesa di poter di nuovo ordinare questo bell'oggettino, un video che ne accenna le possibilità , e che mi piace presentare perché troppo spesso gli oggetti che utilizziamo non portano ad un risultato che si possa dire musicale…anzi. Ma non è questo il caso.

tehn with two fifty six from tehn on Vimeo.
Sara Lenzi is Director of Marketing at Sonoport. With more than a decade of experience in sound design and audio branding consultancy, she writes about all the multifaceted aspects of sound in communication. She is an international lecturer and founder of Lorelei Sound Strategies, the first sound branding boutique studio in Asia. Sara has a Master Degree in Philosophy from the University of Bologna and she is starting her PhD at the University of Bilbao, Spain. She lives in Singapore, where she spends her free time in tireless exploration of local food stalls and vintage shops, sipping cocktails in the tropical humidity and diving with giant turtles in the South China Sea.
Latest posts by Sara Lenzi (see all)