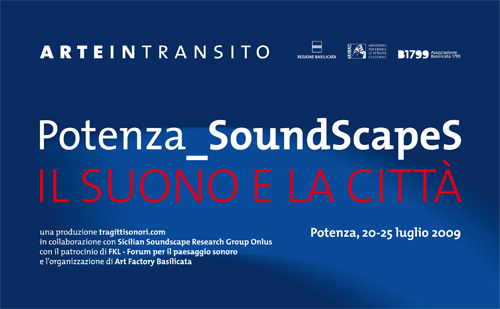 Segnaliamo un evento di cui siamo media partner: Potenza_SoundScapeS – Il suono la città , che si terrà  dal 20 al 25 luglio a Potenza, un progetto nato dalle menti di Pietro Sacco e Luigi Catalani di tragittisonori.com, in collaborazione con Sicilian Soundscape Research Group Onlus, con il patrocinio di FKL – Forum per il paesaggio sonoro e Art Factory Basilicata,
Potenza_SoundScapeS si propone come un momento dedicato alla scoperta della città di Potenza e al suo legame con il mondo del Suono. Una serie di eventi (laboratori, installazioni, passeggiate sonore, incontri, mostre, etc.) metterano in collaborazione utenti diversi (studenti, musicisti, operatori ambientali, docenti, bambini, anziani, non-vedenti), con l'obiettivo di approfondire il senso e il valore di questa connessione città -suono. Il risultato di queste attività si concretizzerà nella realizzazione della prima mappa sonora della città .
Ecco il programma definitivo:
20 luglio, ore 17.30: Sala del Campanile (Palazzo Loffredo),  Tavola rotonda e presentazione pubblica del progetto;
20-25 luglio: Sala del Campanile (Palazzo Loffredo), Finestre Spazio-Temporali: mostra personale di Albert Mayr presentata da Silvia Bordini (docente di arte contemporanea presso l'Università  degli Studi di Roma La Sapienza);
20-22 luglio, ore 9.30-12.00: Centro sportivo Aquatica, C.da Pantano (Pignola), Il Paesaggio sonoro dei bambini: workshop a cura di Stefano Zorzanello (musicista e compositore, fondatore di Sicilian Soundscape Research Group) e Cecilia Alemagna (insegnante, dottore di ricerca in Progettazione architettonica);
21-23 luglio, ore 16.00-20.00: Sala del Campanile (Palazzo Loffredo), Il Paesaggio sonoro tra ecologia ed estetica: workshop a cura di Stefano Zorzanello e Albert Mayr;
23-25 luglio, Ridotto del Teatro F. Stabile (Piazza Mario Pagano), A dip in the Lake di John Cage: happening collettivo a cura di Stefano Zorzanello (prima assoluta europea);
Per informazioni: Luigi Catalani, Tragitti sonori, Art Factory Basilicata, Potenza_SoundScapeS, tel. +39 349 3789 987.
Gianpaolo D'Amico is an independent creative technologist for digital media. He is the founder of sounDesign and a music obsessed since he was 0 years old.
Latest posts by Gianpaolo D'Amico (see all)