Pubblichiamo la documentazione relativa al progetto Audioscan, un lavoro ideato da Giorgio Sancristoforo e realizzato da Basemental in collaborazione con il centro di produzione musicale e sperimentazione AGON, grazie al contributo della Fondazione Cariplo.
In questo periodo si parla molto del tema dell'ecologia acustica e in generale del rapporto tra il paesaggio sonoro e le implicazioni che questo ha sulla percezione uditiva degli utenti (non più solo ascoltatori…). Sicuramente il rinnovato interesse verso le problematiche ambientali stà  dando il suo contributo anche in questa parte di universo sonoro.
Ovviamente la prospettiva sta cambiando, anzi si sta evolvendo. In precedenza il concetto di paesaggio sonoro era spesso collegato a un'esperienza-fuga dalla civiltà  moderna, in un'ottica molto new age, di riscoperta della purezza dell'ascolto senza interferenze. Adesso la pesante presenza della città  e dei suoi ritmi, del suono (quasi sempre rumore) che essa produce, genera uno nuovo tipo di paesaggio sonoro, con degli effetti ben distinguibili sulle nostre attività  quotidiane, sociali e intellettuali.
Il progetto Audioscan si inserisce in questo contesto, partendo proprio da un'attività  iniziale di raccolta e di successiva catalogazione dei suoni registrati in un vastissimo territorio stradale di Milano (circa 1600 zone diverse). Un'attività  che ha avuto l'ambizione di conciliare insieme esigenze scientifiche ed estetiche relativamente al materiale sonoro prodotto dalla città .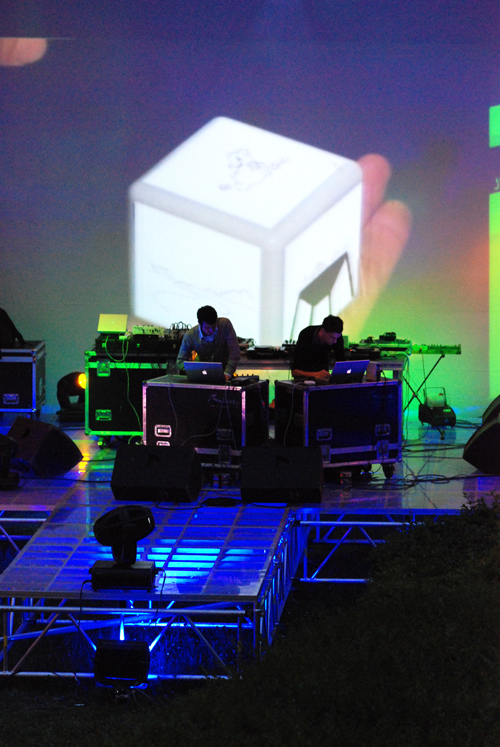 La documentazione che pubblichiamo (alcune belle foto e un interessante estratto audio) è tratta dall'ultima fase del progetto, denominata LIN (la sigla dell'aeroporto di Milano Linate), una performance di musica elettroacustica basata sull'elaborazione dei suoni dello scalo aeroportuale, che ha visto lavorare insieme Giorgio Sancristoforo, Giuseppe Cordaro (alias con_cetta) e il visual artist Giuseppe La Spada.
[dewplayer:http://www.soundesign.info/wp-content/uploads/2009/07/lin1.mp3]
Indipendentemente dal risultato artistico ottenuto dalla performance, l'operazione Audioscan pone l'accento sulla creazione di una mappa sonora di una città  complessa come quella di Milano, su cui sarebbe molto interessante fare uno studio, confrontandolo eventualmente con altri progetti esistenti (Freesound project e simili), per capire le caratteristiche di questo nuovo paesaggio sonoro urbano quotidiano.
Gianpaolo D'Amico is an independent creative technologist for digital media. He is the founder of sounDesign and a music obsessed since he was 0 years old.
Latest posts by Gianpaolo D'Amico (see all)