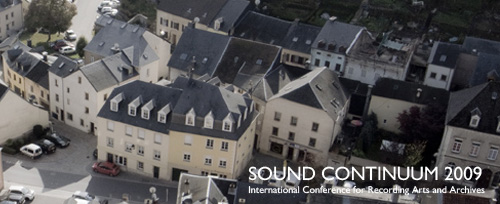 Quest'estate nei giorni della Mostra del Cinema di Venezia abbiamo avuto il piacere di conoscere il sound designer e studioso di sound art e field recording Yasuhiro Morinaga. E' con grande piacere che annunciamo la prima edizione di Sound Continuum, conferenza internazionale dedicata alle recording arts e ai sound archive, e in particolare, per questa prima edizione, centrata sul suono e le sue applicazioni all'immagine in movimento, che si terrà  a Tokio dal 21 al 23 novembre prossimo.
Nata dalla collaborazione tra l'Università  di Tokio (Graduate School of Film and New Media), The School of Sound di Londra, e la Non Profit Organization Image Initiative di Yokohama, la scuola ospiterà , tra gli altri, il grande Chris Watson per un workshop dedicato al field recording e Michel Chion che oltre ad una lecture sull'audiovisione si esibirà  anche in una performance live.
sounDesign sarà  presente a Sound Continuum con un breve saggio sullo stato dell'arte del sound design in Italia: Being a sound designer in Italy today, pubblicato nel booklet del congresso.
Sara Lenzi is Director of Marketing at Sonoport. With more than a decade of experience in sound design and audio branding consultancy, she writes about all the multifaceted aspects of sound in communication. She is an international lecturer and founder of Lorelei Sound Strategies, the first sound branding boutique studio in Asia. Sara has a Master Degree in Philosophy from the University of Bologna and she is starting her PhD at the University of Bilbao, Spain. She lives in Singapore, where she spends her free time in tireless exploration of local food stalls and vintage shops, sipping cocktails in the tropical humidity and diving with giant turtles in the South China Sea.
Latest posts by Sara Lenzi (see all)