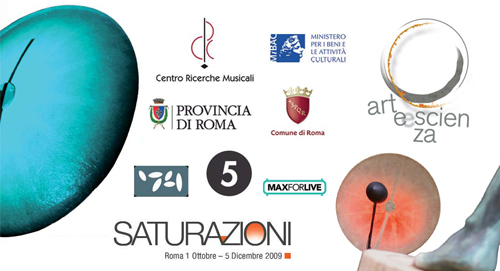 Il Centro Ricerche Musicali di Roma organizza la masterclass Performance in Tempo Reale e Sistemi Interattivi con Max 5, un evento di 6 giorni ( dal 30 Novembre al 5 Dicembre 2009) presso la Sala da Concerto di Macro Future (Ex Mattatoio), Scuola popolare di Musica di Testaccio.
Il gruppo dei docenti è veramente di alto livello:
David Zicarelli, primo sviluppatore di Max e fondatore della Cycling 74;
Lorenzo Seno, fisico, direttore scientifico del Centro Ricerche Musicali, docente di Elaborazione del Segnale presso il Conservatorio Casella di L'Aquila;
Silvia Lanzalone, compositrice, docente di Musica Elettronica presso il Conservatorio Martucci di Salerno;
Walter Cianciusi, compositore, esperto di MaxMSP presso il Centro Ricerche Musicali di Roma;
Carlo Laurenzi, compositore, esperto MaxMSP presso l'IRCAM di Parigi e il Centro Ricerche Musicali di Roma;
Francesco Rosati, docente di MaxMsp presso lo IED di Roma.
Ovviamente gli occhi (e le orecchie) saranno puntati tutti su di lui: Zicarelli infatti presenterà  in anteprima italiana l'attesissimo Max for Live.
Il programma è comunque molto interessante:
30 novembre:

15.00 – 15.30: Presentazione del corso, Laura Bianchini
15.30 – 17.00: Max5: caratteristiche, novità  e avanzamenti, Francesco Rosati
17.15 – 19.15: Presentazione del libro Musica Elettronica e Sound Design – Teoria e Pratica con MaxMSP, Alessandro Cipriani e Maurizio Giri

1 dicembre:

15.00 – 17.00: Authoring Max for Live devices (presentazione in lingua inglese), David Zicarelli
17.15 – 19.15: La performance in tempo reale con strumenti software e controller gestuali, MaxMSP & Arduino, Silvia Lanzalone

2 dicembre:

15.00 – 17.00: Progettazione rapida di strumenti basati sul gesto in MaxMSP, Walter Cianciusi
17.15 – 19.15, Probabilistic composition algorithms using the Max5 tempo-based objects, Designing musical algorithms to support improvisation (presentazione in lingua inglese), David Zicarelli

3 dicembre:

15.00 – 17.00: Reducing patch complexity with Javascript, Using patcher scripting to create dynamically adapting patches (presentazione in lingua inglese), David Zicarelli
17.15 – 19.15: Diversi approcci al trattamento delle funzioni di controllo della partitura musicale, Carlo Laurenzi

4 dicembre:

15.00 – 17.00: L'Interattività  nella composizione musicale con elettronica, Carlo Laurenzi
17.15 – 19.15: Laboratorio di interpretazione di partiture evento con MaxMSP, Walter Cianciusi

5 dicembre:

15.00 – 18.00: Introduzione alla creazione di external con Max SDK, Silvia Lanzalone
18.15 – 19.15: Tecnologie ed estetiche musicali: note sulla non neutralità  della tecnica, Lorenzo Seno
Deadline per la domanda di iscrizione: 25 novembre 2009. La quota di iscrizione è di 400 euro (200 euro per gli studenti di Conservatorio).
Per maggiori informazioni visitate la pagina web della masterclass. Questo indirizzo e-mail è protetto dallo spam bot. Abilita Javascript per vederlo.
CRM – Centro Ricerche Musicali Via Lamarmora 18 – 00185 Roma
Tel. +39 064464161, T/Fax +39 06 4467911
www.artescienza.info www.crm-music.it
Gianpaolo D'Amico is an independent creative technologist for digital media. He is the founder of sounDesign and a music obsessed since he was 0 years old.
Latest posts by Gianpaolo D'Amico (see all)