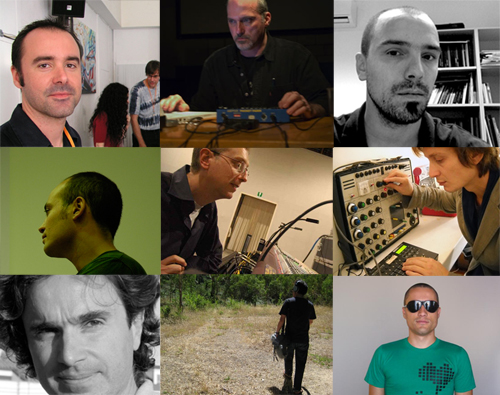 Con un leggerissimo ritardo rispetto all'anno scorso ecco il tradizionale appuntamento con il report delle nostre statistiche. Anche in questo caso vi invitiamo a giocare i nostri numeri sulle varie ruote della fortuna, eccoci:
il numero di visite è ancora una volta quasi raddoppiato: circa 45000;
analogo discorso per le page view: più di 85000;
siamo in piena era velocità -twitter: il tempo medio di un utente sul sito è invece leggermente diminuito a 1 minuto e 50 secondi;
anche qui un cambiamento dovuto al fenomeno dei social media: il sito che ha portato maggiori visite è il famigerato Facebook;
ancora una volta non c'è partita, il motore di ricerca che ci ha supportato maggiormente è l'onniscente Google (addirittura il 57% delle visite);
la keyword che ha portato maggiori accessi è…indovinate un pò… sound design; nella versione italiana di Google arriviamo addirittura prima di Wikipedia;
il tag più cliccato è ovviamente sound design, seguito a ruota da installazioni e dall'inevitabile paesaggio sonoro (ex primo in classifica l'anno scorso);
un post ha praticamente stracciato tutti gli altri: Intervista con Andrea Valle è stato il più cliccato (sia come post singolo che come intervista), il più commentato e, aggiungo personalmente, il più difficile da gestire;
tweet tweet tweet: in poco meno di 4 mesi di attività  il nostro profilo su Twitter ha più di 200 followers, quasi tutti di provenienza internazionale…
Anche per quest'anno abbiamo promosso alcuni eventi legati al mondo del suono: Orizzonti. Il suono domani > musica – teatro – incontri e Potenza_SoundScapeS.
Una grande soddisfazione è stata quella di aver diffuso il sound design italiano al di fuori dei confini nazionali: il nostro articolo Being a sound designer in Italy today è stato pubblicato negli atti del congresso Sound Continuum di Tokyo.
In generale questo è stato un anno di consolidamento, abbiamo migliorato leggermente la struttura del sito senza creare grandi scossoni per gli utenti, la nostra attività di ricerca nel campo del sound design ha comportato una diminuzione nella frequenza dei post, ma in compenso crediamo di averne guadagnato in qualità . Ci stiamo muovendo in nuovi territori e stiamo sperimentando nuove soluzioni, molte delle quali daranno risultati nei prossimi mesi.
Il primo cambiamento dell'anno 2010 riguarderà  tutta la nostra comunicazione in campo new media, a partire proprio dal sito Internet, la cui nuova versione è oramai pronta…
Vogliamo infine ricordare in modo particolare alcune persone che ci hanno supportato in modo inatteso in questo anno. Un ringraziamento particolare quindi per: Enrico Ascoli, Francesco Giomi e tutto Tempo Reale, Matteo Milani, Andrea Valle, Kim Cascone, Leandro Pisano, Nicola Torpei, Davide Rocchesso, Umberto Tesoro e Yasuhiro Morinaga.
Gianpaolo D'Amico is an independent creative technologist for digital media. He is the founder of sounDesign and a music obsessed since he was 0 years old.
Latest posts by Gianpaolo D'Amico (see all)