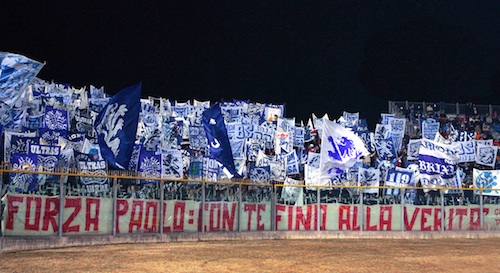 Sound designers do it different, we all know that. And Italians love football, it's another dogma that we do not doubt upon.
But when I met Davide Tidoni and his project called The Sound of Normalization I thought that, well…this was really a different way to love football and work with sound at the same time. I wanted to know more about it and I'm sure you want to know more, too….
Since 2002 Davide is investigating the football supporters subculture, dominated by the use of sound as a real weapon. He documented all his work recording the football chants and organized sounds during football matches and here what he told us about his amazing field recording experience.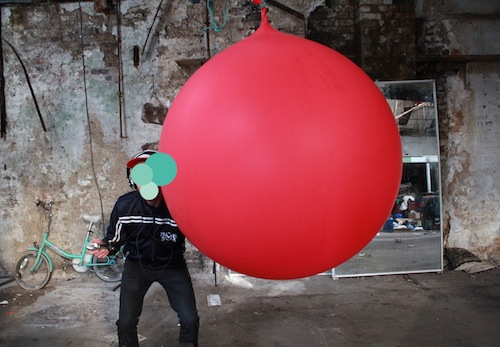 Hi Davide, you work in a very particular field of sound: how would you describe yourself? Sound designer? Sound artist? Sound anthropologist? Could you tell us what you are currently working on, I mean, the very project that got us to know you – the one about football?
I'm a sound space researcher and sound creative. I focus on sound experience and listening techniques. I develop projects in the fields of the performing arts, spatial design, sound ethnography and sound education.
The football project concerns the nexus of public space, social performance and social control in contemporary Italian football. The aim of the research is to trace mechanisms of social interaction and aesthetic creation in football supporters' subculture via an examination of the sound practices shared by the nationally known group Brescia 1911. Relations between sound production and space construction are investigated especially in the light of dynamics of social control adopted in football grounds in the last years.
Tell us how it all began.
Everything started more than seven years ago. In 2002 I went to a football game in my hometown of Brescia, Italy. Not at that point a follower of the team Brescia, and at best a mediocre audience member, I was immediately struck by the participative and theatrical sonic dimension of the stadium, pitch and the two opposing groups of supporters.
The stadium appeared to me as an acoustic arena inhabited by a unique auditory subculture that selected and attached importance to specific sonic events as well as to the stadium's unique spatial attributes. Supporters used the stadium as a stage on which to exhibit themselves and express their behavioural codes. With these latter varying according to the complexity of the setting, the stadium turned into something completely different from what, based on my experience watching televised matches, I had previously imagined it to be.
The place was thick with undecipherable signs; nothing was as easily accessible and obvious as it appeared on TV. Consequently, I felt like an outsider who had just discovered a fundamental disjuncture between the game and the game as shown on TV. In order to understand this newly apperceived dimension, I began to investigate the participation and activity of the supporters as a form of sound-space awareness. After that first match, I became a regular attendee and began recording the chants of Brescia's supporters as well as the larger soundscape of the stadium.
The experiences accumulated over my first year of fieldwork (Summer 2002 to May 2003) caused me to listen to the aural dimension of the stadium as an ongoing extemporary sound mix that was not set a priori but created, organized and performed in real time by a large number of people whose modes of listening were highly situated, dynamic and responsive.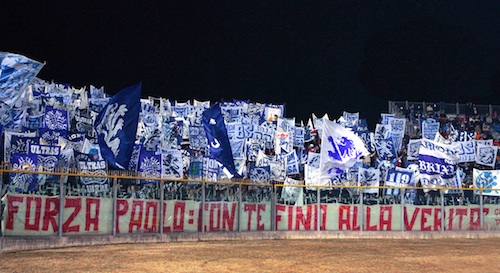 What are your results, socially and sonically speaking?
Football chants consolidate place possession and sense of community; they enable identification and instantiate identity, belonging and social cohesion.
In the chants there resides the history of the supporters and the team, with the chants themselves functioning as a living oral memory that recalls past events and renovates connections among different generations of stadium-goers. Chants are always built upon and anchored to specific environments. Occurring only under certain circumstances, they are integrated into a far wider context than that portion of the stadium from which they are launched. In fact, sound production is exchanged not only in relation to what happens on the pitch. As well, it is sensitive, for example, to the activities of the two competing groups of supporters, to the police's treatment of them, and to the socio-political situation outside the stadium.
And now the classic one: what is Sound for you?
Sound is relation, listening to the space between yourself and the rest.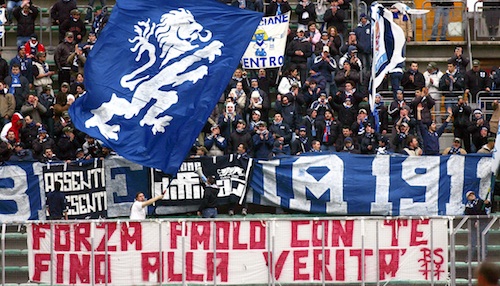 What are your plans now, and were can we listen to this project?
For now the main page of the project is this. You can also listen something here. For the future I'm planning to create a dedicated blog but the more ambitious idea is to realize a sound ethnography video documentary with interviews and audiovisual material from different groups of italian supporters.
Sara Lenzi is Director of Marketing at Sonoport. With more than a decade of experience in sound design and audio branding consultancy, she writes about all the multifaceted aspects of sound in communication. She is an international lecturer and founder of Lorelei Sound Strategies, the first sound branding boutique studio in Asia. Sara has a Master Degree in Philosophy from the University of Bologna and she is starting her PhD at the University of Bilbao, Spain. She lives in Singapore, where she spends her free time in tireless exploration of local food stalls and vintage shops, sipping cocktails in the tropical humidity and diving with giant turtles in the South China Sea.
Latest posts by Sara Lenzi (see all)