This is a report of what happened during Homemade electronic music/Hardware Hacking, a workshop held in May 2012 in Florence (Italy) and organized by Radio Papesse, web radio dedicated to contemporary art, sound art and experimental storytelling.
During these days a group of sound lovers composed of students, deejays, sound engineers and artists met in the beautiful location of Villa Romana and had the chance to learn and experiment the art of creating electronic music via hacked hardware.
Teacher of the workshop was Nicolas Collins, professor of sound design at the Art Institute of Chicago. Collins was a student of Alvin Lucier at Wesleyan University and worked with David Tudor and artists like Jim O'Rourke, Elliott Sharp and John Zorn. In few words: he was the man for our mission.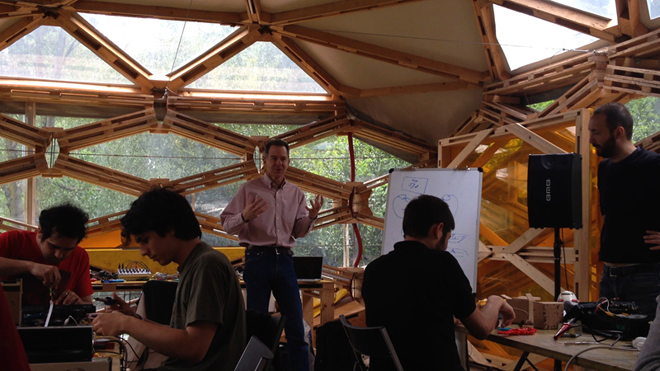 Attendees were previously asked to bring soldering iron, an old radio, some batteries, metal items and some old sound toys to be hacked, in order to have the basic elements for working autonomously.
Starting from Collins' book Handmade Electronic Music: The Art of Hardware Hacking, the program of the workshop was organized in four parts.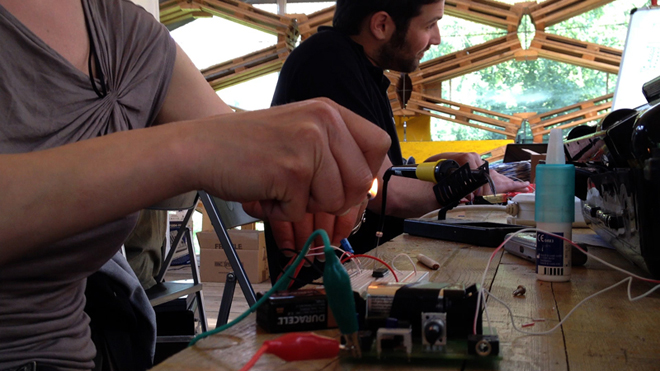 The first day was dedicated to create oscillators built with simple speakers and batteries, to hack an old radio and convert it to a raw but effective touch-synthesizer and at last to build a contact microphone and a coil pickup. This was a very important initial stage for the workshop, because we built the main tools/instruments to work and learn the main concepts for the activities of the following days.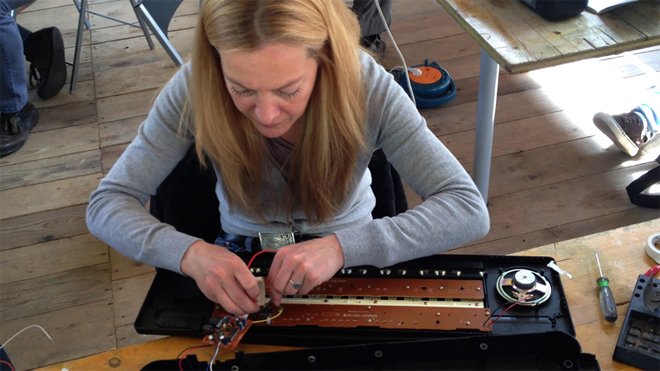 The second day was mainly dedicated to the technique of circuit bending, in which we worked on a kit provided by Collins to build a portable amplifier with multi-input (mic/inline). This was one of the hardest moments of the workshop, because we had to handle with soldering, metal melting and circuits: a real challenge for people used only to press buttons on the keyboards or to tap glossy screens.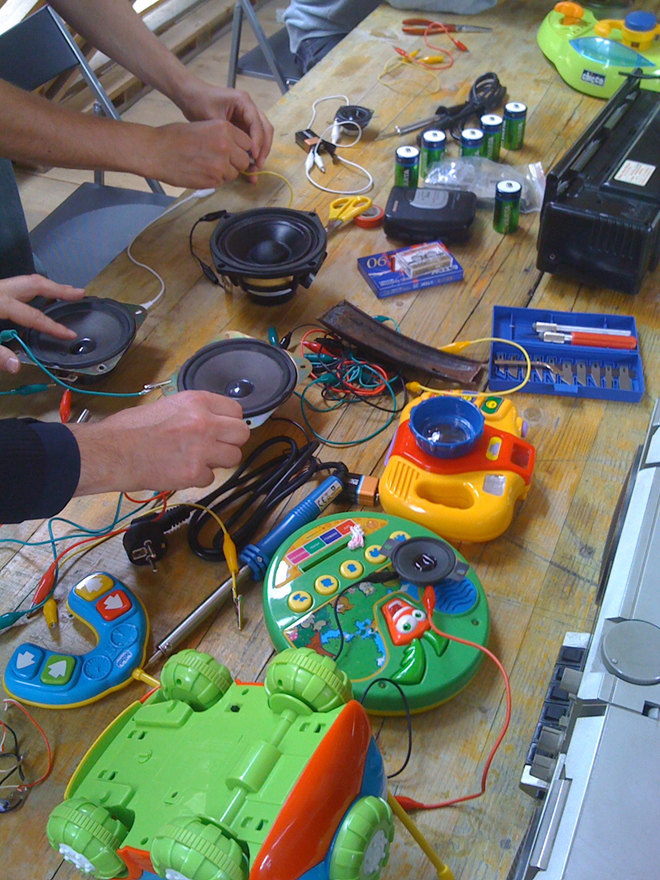 During the third day we finally worked with oscillators built from integrated circuits and then we made a step further working more deeply with sensors, in order to build systems able to react to external stimuli and actions.
The last part of the workshop was called A Turn In The Shrubbery and consisted of a small exhibition in which people from outside were invited to come and see the noise objects created by attendees, which were placed in different areas of the wonderful garden of Villa Romana.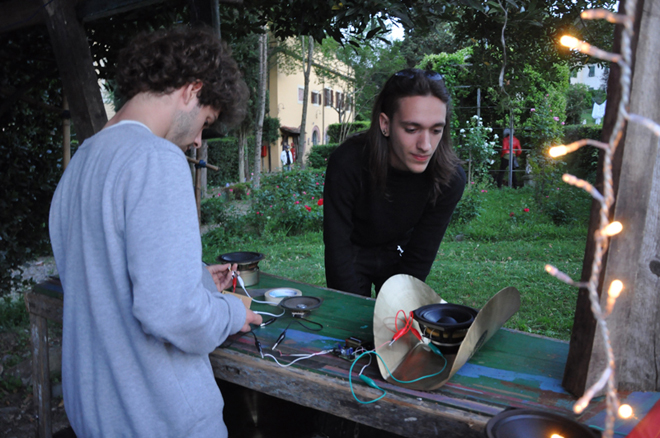 But this workshop was not only hacking and cracking all the things we were near by, but it was a chance to live for 3 days with other guys in love with Sound in a beautiful place in the hills of Tuscany and know a wonderful teacher like Nicolas Collins. It was a great pleasure not only to learn from him but also to talk about the history of electronic and contemporary music of the last 20 years, exchange ideas and opinions on what and why a sound professional should use these techniques in several areas of work, which could be summarized as follows:
performances: circuits and hacked hardware are new musical instruments and in addition they are surprisingly awesome, so live acts can be more spectacular under several points of views;
sound libraries: some of these sounds are really unique and often they can't be played again with the same result, so it would be fantastic to record all the sounds as the are created;
sonic interaction design: circuit hacking is obviously a very physical context, when you can really handle the objects and change they way they respond to actions, especially because you use several sensors (light, proximity, etc.);
acoustic research: it would be very interesting to investigate the relationship between physics and sound created by hacked hardware, in order to experiment new possibilities in acoustics.
Electronic music is not the only option, as we hardly understood.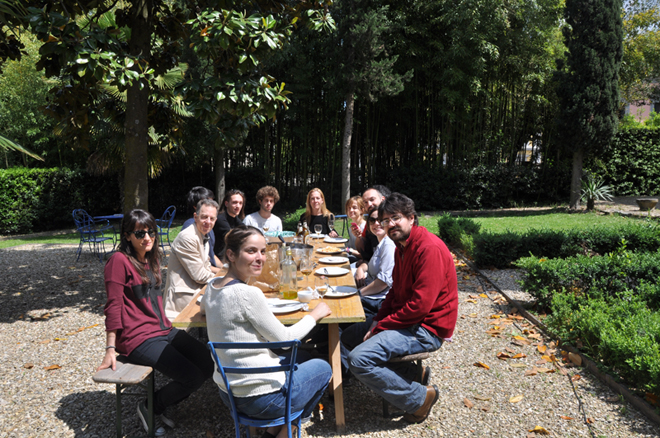 Some last words about the organization: Letizia Renzini was the tutor of the workshop, which was realized with the technical support of B&C speakers.
At the end we want thank the amazing Radio Papesse's girls, who gave us the chance to be part of the crew, and Alexandra M. Korey who was the first to send us information about  these 3 noisy days.
Gianpaolo D'Amico is an independent creative technologist for digital media. He is the founder of sounDesign and a music obsessed since he was 0 years old.
Latest posts by Gianpaolo D'Amico (see all)