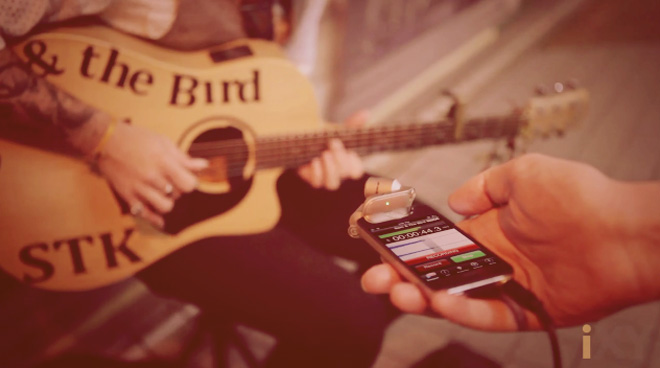 It's clear that the smartphone (iOS or Android or whatever you want, don't worry…) is the new microphone. Small, medium capacity for data archiving, portable, but with a huge issue: unsufficient system to capture high quality audio in the environment.
During these two last years we saw many different products being released with the purpose of providing an efficient solution to convince Sound professionals to change their own mind about their recording habits.
Audio companies followed different strategies: some hardware (Ik Multimedia iRig Mic, Tascam IM2, Fostex Ar-4i) and some software (Audiofile Engineering FiRe 2, Sonoma Wire Works FourTrack). All good products, we use them all. If you search on the web you can find many reviews and tests in order to verify if they are the right solution for your work. We recommend to read External Microphones for iPhone 5, 4S, iPad and iPod Touch Audio input, a great article by Jeff Geerling on his own blog.
Anyway today at the International CES (Consumer Electronics Show) 2013 in Las Vegas the australian-based audio company RØDE Microphones released a new product for high quality recording using iOS devices.
It's called RØDE iXY and it is an hardware/software solution is composed of a microphone and the corresponding software app.
Some features of the microphone are:
recording quality up to 24-bit at 96KHz.
a matched pair of ½" cardioid condenser capsules, fixed in 90 degree 'near-coincident' alignment, in order to provide immersive and detailed stereo recording
an in-built high pass filter to reduce noises
a foam windshield for outdoor recording and a reinforced protective zip case are given as accessories in the bundle
Price USD$199.00.
For the app Rode rec the most important features are:
adjust input level with presets,
equalization effects (compressor/expander, high-pass filter, low pass filter, parametric EQ)
non-linear editing
geo and photo tagging
upload to SoundCloud, Dropbox and others
compatible with iPhone® 4S, iPhone® 4, iPad® (3rd generation), iPad® 2 & iPad®
price today: $5.99
a free lite version with limited features.
As you can see in the video the app seems to make a great job not only for controlling input audio quality, but also for editing samples via touch gestures. We know that using a touch interface for doing some common tasks for audio professionals is very challenging, but the video is showing a nice and smooth interactivity between fingers and app.
It's too early to give a complete verdict on this product, anyway Endgadget team made a test at CES 2013Â comparing recordings from the Rode iXY attached to an iPhone and a Rode Videomic Pro on a DSLR, which you can watch it in the video below.
At last  we think that RØDE team should read the increasing number of comments being published in these hours by users on their videos on YouTube and Vimeo, which mostly are demanding the same thing: Android version soon…:)
Gianpaolo D'Amico is an independent creative technologist for digital media. He is the founder of sounDesign and a music obsessed since he was 0 years old.
Latest posts by Gianpaolo D'Amico (see all)