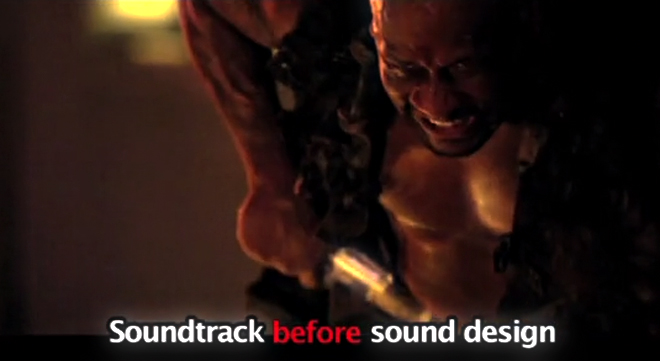 I still have impressed in my mind (and ears) when I followed the class of Electronic Music by prof. Lelio Camilleri, in which we learnt the basic concepts of Michel Chion's audio vision just watching (and listening) some of the most memorable scenes from 2001: A Space Odyssey, with and without Sound. Good old times.
Anyway I always felt strongly the need to have good examples for understanding and showing the role of audio in film and other fields. I could link many explanatory videos with this purpose, but for the most of times they are more or less commercial stuff, built by companies to make self-promotion and not education. Indeed it's very uncommon to find an audio/video content clearly built with the goal to explain a process of working not only to young sound designers in a school, but also to clients, with the aim to create a truly effective collaboration in the design of audio elements in a script or, more generally, a digital story.
From my daily sessions of crazy big data surfing I discovered Sound design… what's that by french sound designer Alexis Jung (website | IMDb | SoundCloud ), a video created with education in mind.
Alexis gave me a short explanation of this work via email: "In my profession, I often work with producers and directors who have a very limited knowledge about the potential benefits that sound can add to the story in their film. I think, for example, that if sound was thought of at the same time as the script, we could go much further in linking sound and image together. I made this modest video to fill a pedagogical gap in order to raise awareness for professionals who work with images but also for spectators so that everyone involved can be slightly more aware of the importance of the role that sound plays in a film."
The video is mostly composed of the following four parts:
the soundtrack before the sound design process, only composed of naturally recorded sounds;
the first layer of sounds, with the aim at integrating the action in a physical space;
a second layer for giving an identity of the characters, that's to say a unique sonic description of human elements in the script;
a last layer of special effects, with the goal to add drama to the scene, in order to reach for the final climax.
Again from Alexis' words:Â "A soundtrack is thought about in terms of the story and of feelings. Every sound must be thought of. I hope that this video raises this awareness."
We need more examples like this. Michel Chion would be surely glad about it. So please give your comments and links below if you can show something interesting.
In the meantime I thank Alexis for his effort and I wish him good luck for his Sound future.
Gianpaolo D'Amico is an independent creative technologist for digital media. He is the founder of sounDesign and a music obsessed since he was 0 years old.
Latest posts by Gianpaolo D'Amico (see all)