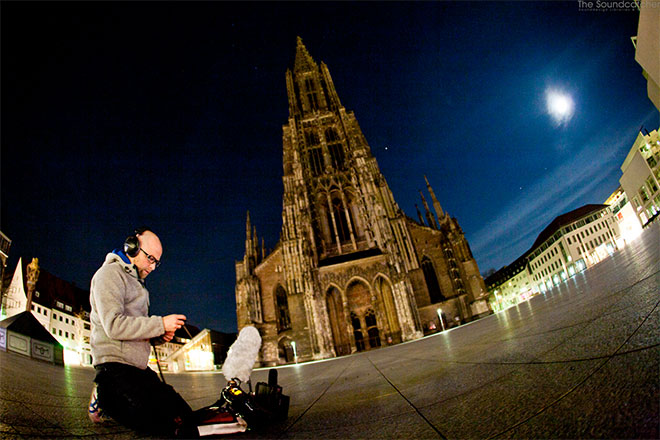 The Soundcatcher Andreas Usenbenz is a Recordist and Sound enthusiast from Germany who created 365 Sounds, one of the most interesting SFX libraries of the last year. We shared some ideas with him in a cool interview about his life, activities and the industry.
Hi Andreas, we read from your website that you live in Germany and you work in many fields of Sound. Can you tell us more about you and you activities?
Hi Gianpaolo. Yes, i'm living in the german South. Halfway between Munich and Stuttgart in a nice little town, with only 120.000 human souls living there. I found myself getting in contact with digital sound in the year 2000 where we recorded our hardcore band on a multitrack minidisc recorder in our rehersal room. Our Drummer owned a version of Cool Edit Pro. So I sat down with him and we tried to mix the record, which definetly was not working because we both had no idea what to do with this software 🙂
But this experience released a bigger wish to learn more about this thing call digital audio. I got myself a version of fruity loops and I started building sound. It was definetly no music 😉
Somehow in the process of learning I switched to Cubase and later to Ableton Live 4. This is where I found my big love (besides my wife). Now I'm still on Ableton Live 8 and for sure I work with industry standards like Pro Tools.
In 2010 I studied Audio Engineering at the SAE in Stuttgart and I got my diploma, which wasn't too hard. Sound is my passion and as I was relatively old for completely switching the job, I'm abolutely happy with this decision and I know that Sound is what I live for.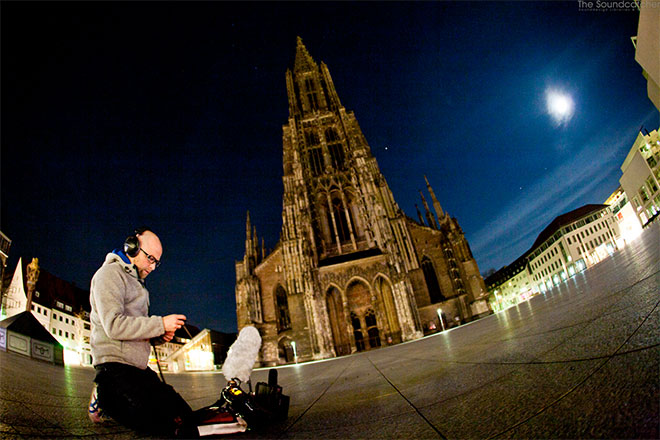 Since 2010 I'm a freelancer in composing music for the Industry and Advertisement. It was really late in 2010 as a friend of mine was coworking with a guy from a TV station in Munich and as he had to move to Berlin, he asked me to help out with the IT/Folie and Sound Design stuff for a featured length thriller. So this was the first time in which sound design touched me.
I had no idea about the audio post pro of a feature film, so I did massive telephone spamming to the guy from the TV station. He was my first mentor. I bought myself an handheld recorder and I recorded all the stuff which was needed to manage the film in a really good quality (for my first project), as the producer was really happy with my work and I received a little bit money for my first sounddesign job 🙂
But also this made me, getting more into sound design and SFX. You must know that I was experimenting with sounds since 5 years. I was and I am the well known noise and avantgarde artist in our town doing a lot of live improvisations and compositions for dancing and multimedia performances.
At the moment I'm working as a location sound recordist for a TV station, recording SFX for my sound fx company The Soundcatcher and composing music and sound design for short, feature lenght films and industry stuff. Sometimes I do some mastering & mixing work but this is not that often. I feel that i have to set my focus more in SFX and sound design.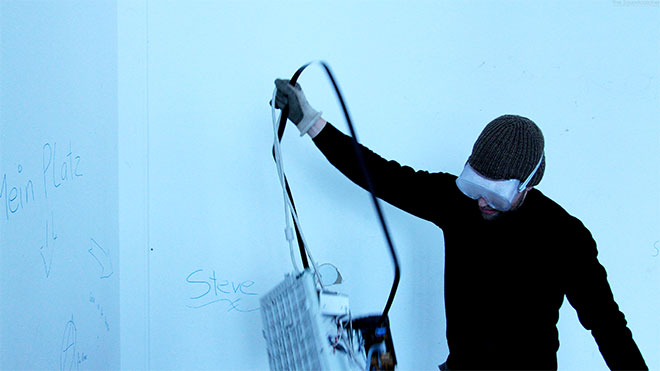 You're making a great work at your website with the release of SFX libraries. Surely 365 Various Sound FX is one the most interesting. Could you tell the story behind this unique (and very hard to accomplish) project?
That's a good question.
How should I start? It was two years ago when i did my first feature film sounddesign work. I replaced all audio in the movie because it was totally crap. The sound dude, which was booming was wearing a nylon jacket and i don't have to say, what it sounds like….
So the producer wanted me to replace all the sounds and i started to collect stuff which i didn't had in my really small library (till this time).
I totally fell in love with recording this kind of sounds. Foleys, Ambiences and Sfx. When the film was finished, i also kept running around with my recorder and catching sounds from all around my House, City and a lot other nice places.
This was when i decided to build up a library. In the beginning it was ment  for myself only and as i wanted to grow my library i thought about what to record. So i decided to set myself a timeframe. I wanted to record 1 sound per day for one year….. and….. I did it 😉
So, at the first of january 2012 I started to record one sound every day. Sometimes I didn't find the time, but if I had the chance I recorded/created something earlier or later in the same week. I was also blogging about my Freesound Project at Klang Manufaktur. I gave all sound for free for about the project time. But as I finished it I thought about packing it up, writing metadata and set it up as a small little library which people can buy on my sfx site.
So this is the short and really simple Story behind that SFX Pack 🙂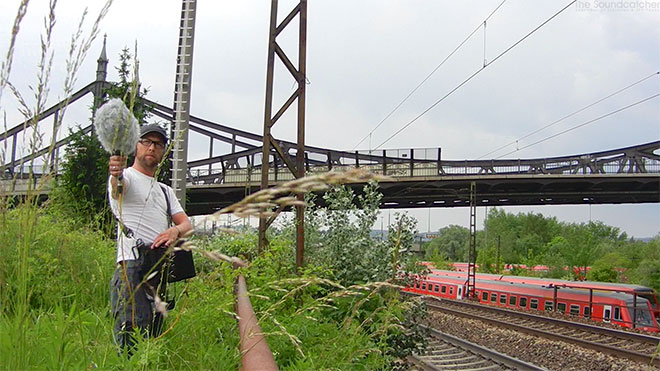 Germany is very relevant for the topic of Audio Branding, thanks to the Audio Branding Academy work. Are close to this field or a you part of a community or scene of german sound professionals?
No, not really. I did a bit of audio branding for a friends business. He's developing very unique PA loudspeakers in Austria  for Lambda Labs.
For him I created a special sound logo. But this is all I did in the area of audio branding.
Can you tell us your ordinary day of work? Do you use a regular process to work at projects, some kind of defined workflow to be more effective while designing and building sounds with clients?
Normally I get up really early. I'm a morning worker. Beside having coffee, I'm checking my rss feeds, Twitter, Facebook, Linkedin and my mails to get all necessary informations. If I dont' have to work on a certain project I think about sound fx libraries or I do some research, self education or my new passion (film making & editing).
And if I'm working on a project, I set all my focus on it. I tend to run through projects really tight and quick to get my work done and to get the client happy.
You all know, we have to be very fast. But in the field of workflow, I haven't a special set up or preparation for work. In my studio every project is very different., from image film to advertising films to SFX projects. I didn't find a way to get them all under one Workflow. I don't think this would work.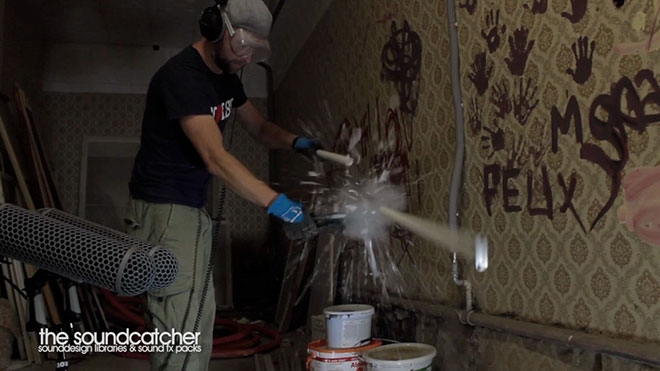 What are the most interesting fields of work now in Sound? Do you feel some particular trend moving up and you want to follow it?
Interesting question. I feel like I'm not as long in the music industry to have an overall view. But what I see i, that price-dumping will kill the industry in a special way. We all try to live from this business and this leads us to the fact, that we all need to invest time into developing certain skills, that price-dumpers haven't. I see this out of the world of composing. Industry clients can pay 20$ for music via websites for music. So why should they pay a composer for that which costs several hundreds of $? This is why I tell my clients, that it is responsible to pay more, because you get more. Dynamicity, flexibilllity and a special mood, created on the motion picture for their videos and films.
I also recognize that the field of independent sfx creators is growing. So I jumped up on the train to give my clients the possibility to get really special sfx libraries out of my hands. I try to create impressive work what is not really simple, because the market is full of small unique sfx companies and it is also really heavy to survive on this market.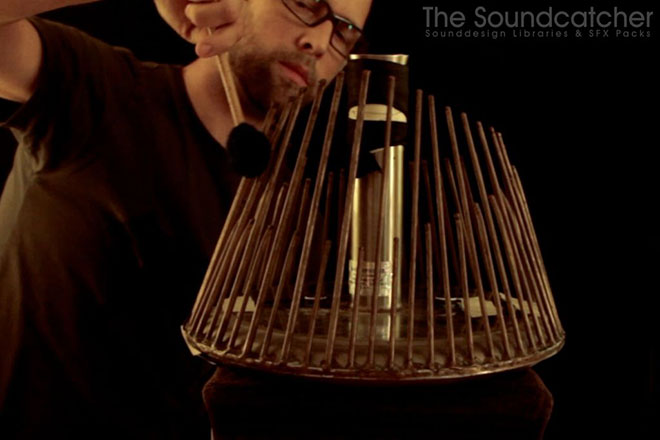 What are you doing now and what are your future plans?
At the moment I'm producing a lot of music and sound design for advertising. I definitely build more SFX libraries in the future.
I develop my skills in film making (camera & editing) because in the region where I live there is a good amount of industry, where you can live from as a one-man-film-maker.
I would love to do more sound design and recordings for film, audio play and games. So, if you read this, get in touch with me 😉
Ok Andreas, thank you very much for your time and answers. Can you give us 3 names for your daily inspiration (website, musician, artist, Sound lover, whatever).
Nature
My Son
Twitter
Gianpaolo D'Amico is an independent creative technologist for digital media. He is the founder of sounDesign and a music obsessed since he was 0 years old.
Latest posts by Gianpaolo D'Amico (see all)