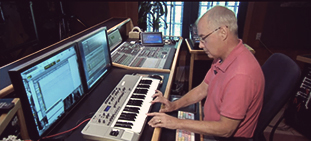 Just waiting for the super cool video surely coming from the guys at SoundWorks Collection, a brief video by CNET reveals some good tips from the work of our hero Ben Burtt, the chief sound designer of the last Star Trek Into Darkness.
Do you know where the funniest sounds came from?
To record the overwhelming sound of a giant boiling lava field, Burtt went totally local, stepping out of the back of his Marin County, Calif., house with his daughter and throwing a bunch of dry ice in their creek.
via CNET
Gianpaolo D'Amico is an independent creative technologist for digital media. He is the founder of sounDesign and a music obsessed since he was 0 years old.
Latest posts by Gianpaolo D'Amico (see all)