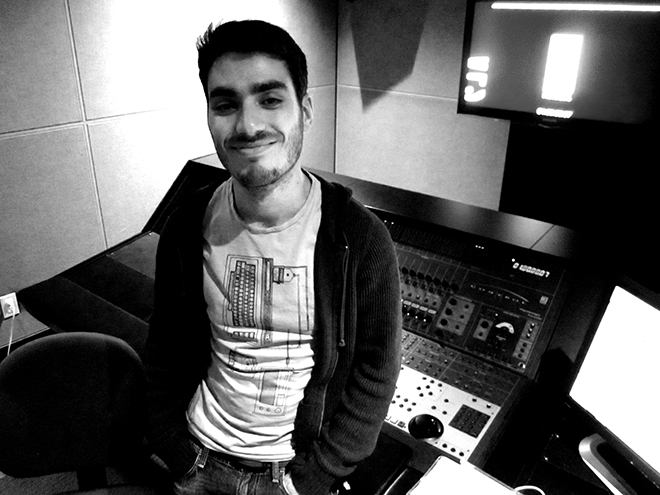 Alessio Mellina is a Sound lover from Italy currently working at Electronic Arts Canada. I decided to contact him and know more about his sonic life after playing some noisy samples with r0b0.coder, a funny standalone multi-effect processor built with Max, which he released online for free some months ago.
Hi Alessio, I read on the about page of your website that many different languages collide in your mind (Italian, English, French and German). Could you tell us more about your sound life and work experience?
Hey Gianpaolo! Just like many others, my first approach to sound was through music. I started playing the clarinet at the age of 10, moved on to the electric bass a few years later, then took a degree in Computer Music in Milan, Italy. After that, I realized I wanted to specifically focus on sound design for games, and that's when I decided to take Sound Design at Vancouver Film School. After a brief period of freelancing, I'm currently working at Electronic Arts Canada.
Your portfolio is organized in some cool categories, then I suppose you work in different fields of Sound, do you think that this is the current way for sound designers to work today?
I don't know if this is the best way, but I think it's a good way of showcasing your sound design-related skills. Valve released their Employee Handbook a while back, and it described how they value people who are skilled at a broad set of duties and excel at one specific discipline. I think that model is all the more important for sound designers.
Let's get to the point: why did you created the crazy r0b0.coder? Could you tell us how did you use it in your work?
Like the other apps I made, I created the r0b0.coder because it was fun. I enjoy the technical aspects of sound a lot, and Max is a great sandbox. It's comparable to playing Lego… But instead of plastic bricks you're using sound: how awesome is that?
I actually don't use my apps a lot in my usual workflow; to use the Lego similarity again, I find I have a lot more fun making them than actually using them. I am, however, always looking forward to seeing how other people are using them, and the results blow me away.
So you are a Max hero…but what are your favorite tools and instruments to work with?
I wouldn't call myself a Max hero… my patches are quite basic, compared to what a real Max expert can come up with. I just like to make them accessible to a broader audience, hoping to share some patching love.
As for other tools, my weapon of choice for sound design is Pro Tools, paired with a good selection of sound samples and a few basic Waves plugins.
We receive a huge numbers of emails from guys fallen in love with Sound, who want to start a career in this field and ask if VFS is real or a dream? Can you tell us more about this school and some suggestions to have the chance to
VFS is quite real and my lack of proper sleep for the last year or so can attest to that. Jokes aside, it's a very solid program and all of my confidence in working with sound comes from that. The program in Sound Design for Visual Media is very intense and very rewarding (and a great networking experience as well) and I couldn't recommend it more.
What are your current projects related with Sound?
As I mentioned before, I'm working as an audio artist at EAC (on FIFA 14, more specifically). That's taking up most of my sound-related energies, although I have a couple of Max/MSP ideas and prototypes I'm toying with during my spare time.
Let's go personal: give us 3 names for your daily inspiration (website, musician, artist, Sound lover, whatever…).
Amon Tobin, Trent Reznor and Clint Eastwood (that's for the whatever category).
Last one: do you miss Italy? 🙂
The last question is always the toughest… I only miss a few things: family, friends and (just to complete the stereotype) food.
Gianpaolo D'Amico is an independent creative technologist for digital media. He is the founder of sounDesign and a music obsessed since he was 0 years old.
Latest posts by Gianpaolo D'Amico (see all)