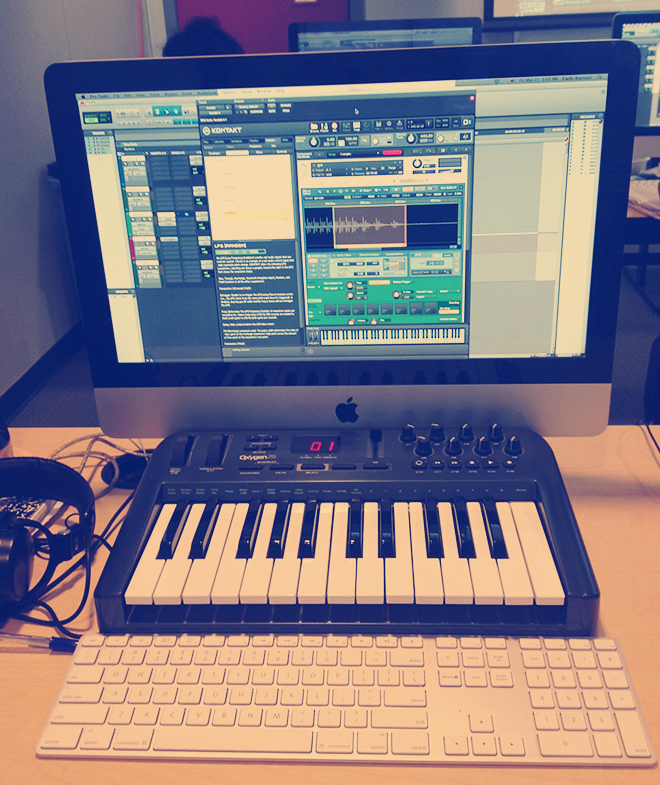 This post is part of a series called One Year in Sound by sound designer Carlo Ascrizzi.
Sound Design 2 classes are focused on the sampling techniques. After an historical introduction to the art of sampling and a review of the traditional and modern sampling tools, you'll learn how to sculpt sounds through the popular and powerful Native Instruments Kontakt.
You'll start creating a rhythm loop playing around with Kontakt and soon you'll explore sampling concepts such as grouping, mapping, wave editing and textures. You are asked to give life to your samples and to work on several in-class projects.
As final assignment you should create an imaginary soundscape of your own choice, in which there should be kind of life forms, natural phenomenas or artificial intelligence…. yes, we are weird people…
You can only use Kontakt and you are allowed to use just your own vocal samples previously recorded, like: Tchick, Der, Frap, Gor, Jor, Lu, Myu, Var… yes, like that!
Then choose a picture or write a couple of phrases to explain what your soundscape is about.
That's a super creative and exciting project to work on, so let's give a beautiful life to those strange samples! I described mine as follows:
an imaginary, abstract space where both advanced and organic forms of life live together. It slowly moves and evolves. A cosmic equilibrium rules everything.
Check it out!
Freelance sound design and music artist Carlo Ascrizzi creates original sonic contents for film, animations, multimedia and beyond. From brand commissions to experimental collaborations, his work has reached international multimedia arts festivals, film award nominations and digital arts magazines. An all-round creative, tireless traveller, Carlo is also the author of SounDesign's beloved series One Year In Sound.
Latest posts by Carlo Ascrizzi (see all)