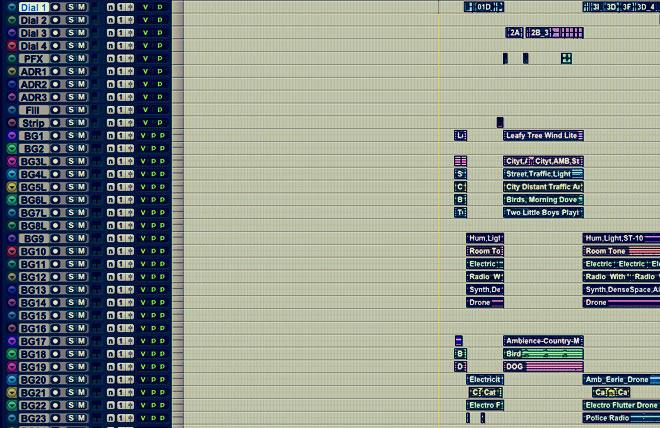 This post is part of a series called One Year in Sound by sound designer Carlo Ascrizzi.
Do you remember the film collaboration in Term 3? You've been on set for a week shooting an episodic short movie… well, as everybody knows, after the production there is the post-production… so guess who is going to work on that? 🙂
In Term 4 people work as editors and in Term 5 they deal with ADR & Foley Recording and Mix. You work on the same short you took part as Production Mixer and/or Boom Op.
But even if the members of the Sound crew are already established, all the editorial job positions are assigned within the crew itself. It means that you and your teammates will try to figure out who is going to do what, and generally the choices are based on what you are better at and what you wish to specialize in.
So in each Term 4 team two or three people will split the editorials jobs choosing between Dialogues, BGs, Foley, SFX and SPFX.
You need to get used with the upcoming real world so teachers are mentors and supervisors at the same time, but you are basically working for your clients, directors and producers from the film campus. Your professionalism has got a big value in this experience as well as your technical skills. You have meetings with the film campus crew and fixed deliveries. Don't be late!!
Freelance sound design and music artist Carlo Ascrizzi creates original sonic contents for film, animations, multimedia and beyond. From brand commissions to experimental collaborations, his work has reached international multimedia arts festivals, film award nominations and digital arts magazines. An all-round creative, tireless traveller, Carlo is also the author of SounDesign's beloved series One Year In Sound.
Latest posts by Carlo Ascrizzi (see all)